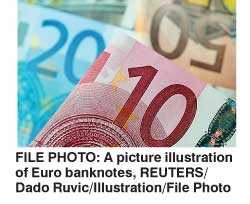 LONDON (Reuters): The euro rose above $1.24 to a three-week high on Tuesday after solid Chinese economic data and receding worries about more US strikes in Syria revived risk sentiment, weakening the dollar.

US President Donald Trump's comments about China and Russia trying to devalue their currencies this week also weighed on the greenback, with investors believing that the US administration wants to see a weaker currency.

That supported euro buyers and helped the single currency rally 0.3% to $1.2412 EUR=, its highest since March 28.

A key economic sentiment index published out of Germany later on Tuesday could help the euro hold above $1.24, analysts said, and encourage euro bulls again after a rally in the single currency earlier this year ran out of steam.

The dollar, measured against a basket of major currencies, fell 0.2%.

That weakness included drops against sterling GBP= and against several Asian currencies including the Korean Won KRW=, which were bought on hopes that a US-China trade spat would calm down.
"There's been a general weakness in the dollar and risk sentiment seems to be reviving somewhat. That is supporting the euro but also sterling and Asian currencies," said Alvin Tan, FX Strategist at Societe Generale.

"In the background we have the trade issues but that seems to have died off. We haven't had any tweets from Trump (on trade) for a few days."

Against the yen, the dollar softened to 106.96 yen JPY=, off its seven-week high of 107.78 yen touched on Friday as traders braced for a meeting between Trump and Japanese Prime Minister Shinzo Abe on Tuesday and Wednesday.

Tokyo is eager to avoid being pushed into talks on a two-way free trade agreement aimed not only at market access but at monetary and currency policies.

But traders suspect Washington could put pressure on Japan after the US Treasury's semi-annual currency report published on Friday kept Japan on a monitoring list for possible manipulation.

Trump accused Russia and China on Monday of devaluing their currencies, even though the yuan has been strengthening in recent months, and the rouble's recent dive has been widely blamed on US sanctions.

"How grounded the comment is in fact is much less important than the fact that he said it. It also suggests that President Trump could attempt to 'talk down the dollar' to shrink the US import bill. This will undoubtedly reinforce the appetite for investors to hedge their dollar exposures given the unpredictability and uncertainty over dollar policy going forward," MUFG analysts said in a note.

China's economy grew 6.8% in the first quarter of 2018 from a year earlier, official data showed on Tuesday, slightly above expectations and unchanged from the previous quarter.

Aside from that data, the focus on Tuesday and for much of this week will be on US corporate earnings.

Elsewhere, sterling hit its best level since the June, 2016 Brexit referendum as optimism about a Bank of England interest rate hike next month and receding talk of a disorderly Brexit encouraged traders to add to their pound positions.