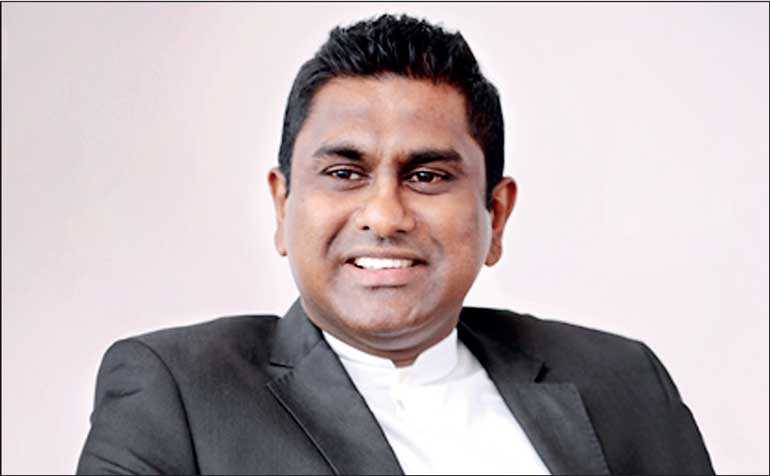 Epic Technology Group Managing Director and Chief Executive Officer Viraj Mudalige
---
Turns mobile devices into digital wallets, eliminates the need to carry cash and cards to complete transactions
Connects Bank of Ceylon's customers across every level of the socio-economic pyramid through Epic Low-Value Transaction Processing Solution


By Hiyal Biyagamage

The digital transformation in the global banking sector is pushing Sri Lankan banks to introduce cashless payment transaction policies at a quick pace. These vital policies will reduce the use of physical cash in the country's economy and enforce new controlling mechanisms. Cashless payments offer payees and payers utmost convenience, security and efficiency while offering a gamut of other benefits as well.

The proliferation of mobile devices in Sri Lanka makes a good case of a catalytic, potential platform for cashless payments. According to the Telecommunications Regulatory Commission of Sri Lanka, active mobile devices have risen from 96% in 2012 to 131% in 2017 and the figure is expected to grow further. However, mobile payment infrastructure as of today is cost-prohibitive and requires complex integrations with a multitude of back-end systems to process a payment, which requires enormous capital to be set up. Thus, there is no formalised and viable platform, which enables both consumers and merchants alike to make and receive payments via their mobile device.

Moreover, the Central Bank of Sri Lanka (CBSL) states that a significant portion of cash-based transactions in Sri Lanka is considered to be low-valued; over Rs. 1 trillion worth of transactions are conducted island wide each month and transactions are less than Rs. 2,000 and consist of payments made for simple goods and services are classified as low-value transactions.

With an approximate cumulative volume of 15 million registered Current Accounts and Savings Accounts (CASA) instruments, banks and other financial institutions in Sri Lanka incurs huge costs in deploying ATMs, kiosks and other services in order to assist cash-based payment requirements of customers. Consider Sri Lanka's merchant landscape; out of 300,000, only 10% are registered to use Electronic Data Capture Point of Sale (EDC/POS) machines. CBSL statistics show that the number of transactions performed through an EDC/POS terminal averages to three or four per day, leaving very limited grounds for financial institutes to justify the costs of terminalising and quantifying the return on investment (ROI) as a majority of merchants do not process large volumes.

Even though the value of payment transactions of middle-tier and grass-root level merchants is found to be much lower, their volumes are substantial for the economy. Thus, it is important for banks to consider various approaches in bringing this remaining 90% of non-terminalised merchants to the financial radar.

Looking at all scenarios above, it is quite evident that Sri Lanka's payment ecosystem is uneven split across various layers:


Substantial volumes of transactions are cash-based especially at the grass-root levels due to the lack of proper and consistent e-payment infrastructure and poor awareness among the public on electronic advancements
E-payment infrastructure is cost-prohibitive and does not provide a justifiable ROI for banks


Banks have to incur heavy expenses to set up ATMs, kiosks, branches in order to deliver cash services to consumers


Mobile technologies and infrastructure are not fully utilised to deliver financial services to Sri Lankans


Hence, a secure and efficient solution to deliver the necessary functionalities low-value transaction capabilities for customers has been a topmost priority for the local banking sector for quite some time now.


A solution to connect all grassroots merchants of the pyramid

Having understood this timely necessity of the country, Sri Lanka's premier Fintech innovator Epic Technologies announced the integration of a Low-Value Transaction Processing Solution with Bank of Ceylon (BOC), Sri Lanka's largest public bank. Designed as a common payment platform, the Low-Value Transaction Processing Solution allows customers and merchants alike can initiate and receive electronic payments of low value using a smart device or a feature phone, by enrolling multiple CASA accounts as payment instruments.

With the details of actual accounts at the fingertips, each wallet user is able to send or receive real currency in real-time. While facilitating BOC and non-BOC customers to seamlessly onboard themselves as customers, the solution will later allow them to upgrade themselves as merchants to accept payments.

The solution provides a common wallet application as well as a mobile software development kit (SDK) for both mobile operating systems – Android and iOS. The Mobile SDK will enable authorised third-party merchants to connect and interact with the payment platform, thus enabling electronic payment acquisition by respective merchants who have their own mobile applications.

Sri Lanka spends nearly around 1.5% of its Gross Domestic Product (GDP) on minting physical currency each year. In such a context, the integration of Epic's Low-Value Transaction Processing Solution at BoC will simply facilitate the electronic movement of funds from one account to another without any physical payment instrument. The solution will greatly reduce the dependency on the paper-based currency and facilitate a cashless payment landscape across every layer of the socio-economic pyramid – most importantly, the middle-tier and grass-root level merchants.

Epic Low-Value Transaction Processing Solution will reach across all levels of the socio-economic pyramid by connecting BOC customers from the cream of the pyramid to the grassroots where the merchants can utilise this platform without the bank having to incur significant infrastructure costs. The bank can now pave a path to reach these grassroots-level customers and eliminate their need to use low-value coins and cash for miscellaneous payments. For customers who do not have a smartphone, BOC can issue a QR decalfor both payment acquiring (merchant) and payment dispensing (customer). With its 7500 plus Electronic Data Capture Point of Sale (EDC PoS) machines, the Low-Value Transaction Processing Solution will support redirecting transactions completed via existing PoS machines.

Commenting on their latest innovation with Bank of Ceylon, Epic Technology Group Managing Director/Chief Executive Officer Viraj Mudalige said, "Epic Low-Value Transaction Processing Solution transforms a mobile phone into a digital wallet to fulfil payer and payee requirements by integrating digitally-enhanced characteristics and world-class security features. As the pioneer of Fintech in Sri Lanka, we are always passionate about elevating the convenience factor of Sri Lankans. Partnering with BOC, we will provide unparalleled convenience to its customers, eliminating the need to carry cash and payment cards during the course of performing cash transactions for various payments. This a significant step we have taken towards millennial banking with the nation's powerhouse in banking Bank of Ceylon."


A range of added advantages

The solution comes with a plethora of other added advantages as well. It will be able to integrate BOC's existing loyalty schemes and extend support for them through the mobile wallet application as well carry out marketing campaigns targeting customers within a specific geographical area, thanks to geo-fencing technology embedded in the solution. It supports a multitude of payment options including NFC (Near Field Communication) payments where a customer can initiate a payment by tapping on a merchants NFC enabled EDC POS machine or mobile device, instead of scanning the given QR code.

Through this solution, BoC will be benefitted immensely where the result would assist the bank to be highly competitive and extremely well placed by being able to cater to all potential merchant segments cost-effectively and thereby delivering an effective and sustainable cashless payment infrastructure to support the national economy.

The time is here for Sri Lanka to revolutionise the retail payments landscape in the country by making it possible for the payments technology to be enjoyed by all levels in the society. Epic's breakthrough Low-Value Transaction Processing Solution will stand to redefine the payment ecosystem at a national level and propel Sri Lanka to the international arena for implementing disruptive innovations and enabling future-ready technologies, building bridges across different socio segments to unify all Sri Lankans in a digital payment ecosystem.