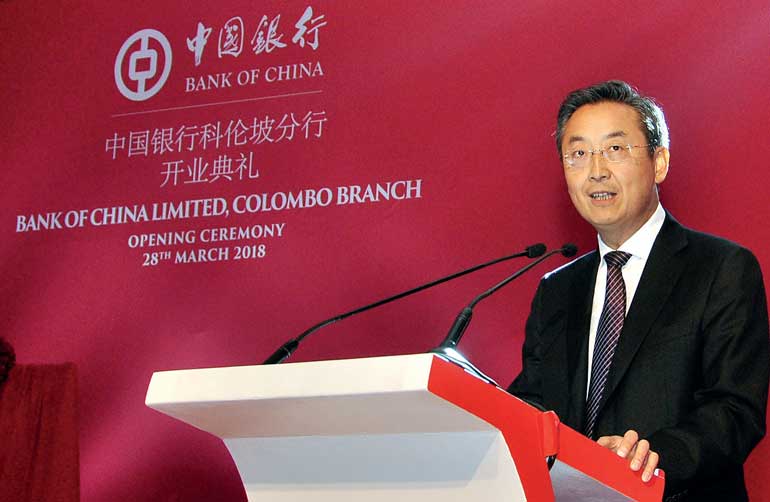 Bank of China Chairman of Board of Supervisors Wang Xiquan
Bank of China's Chairman of Board of Supervisors Wang Xiquan last week said its entry in to Sri Lanka is a new milestone in bilateral ties and heralds a new era.

"The opening of Bank of China Colombo branch will mark the beginning of a new era for the Chinese financial industry to serve the important country of Sri Lanka. It is a new milestone in Sino-Lanka cooperation," Wang told the ceremonial opening of the Sri Lanka operations at the Shangri La Hotel, Colombo.

"Bank of China will use the Colombo branch establishment as a starting point to work together with Sri Lankan friends and to walk together to make a greater contribution to the economic prosperity of the two countries," he told the ceremony at which Prime Minister Ranil Wickremesinghe was the Chief Guest.

Wang added that the presence of Premier Wickremesinghe at the opening fully emphasised the importance attached to Bank of China and deepening financial and economic cooperation between China and Sri Lanka.

With total assets of $ 2.7 trillion, Bank of China is the fourth largest in the world and a Fortune 500 company for the past 29 years.

Bank of China was a global, banking giant with an international history of over 100 years. In recent years, Bank of China has continued to accelerate the development of globalisation. As of now, Bank of China has close to 600 overseas branches in six continents and has established agency relations with more than 1,600 financial institutions in 179 countries and regions. Bank of China's business performance and brand value have been well received by global investors and customers.

Chairman Wang said Bank of China would use the opening of its branch in Colombo as an opportunity to closely focus on the overall strategic cooperation between China and Sri Lanka and fully support the implementation of key projects between the two countries.

Once opened in Sri Lanka, it will provide comprehensive financial services for local economic development and market prosperity, assisting more Chinese companies and investors to enter the Sri Lankan market and using financial strength to set up a bridge for cross-border trade between the two countries.

"Bank of China is eager to strengthen cooperation with local financial institutions and make joint efforts to become participants and promoters of a pragmatic brand of Sino-Lanka cooperation. We are confident that this opening will pave the way for much greater expansion of trade and personnel exchanges and that cooperation between our two countries will lead us to a better tomorrow," Wang stressed.Bank of China's branch in Sri Lanka will be located at the historic Cargills building at No. 40, York Street, Colombo 1 in the heart of Colombo.