The dream of every entrepreneur is to see their business reach the apex of the ladder of success. 'Thurunu Diriya' loan scheme of the Bank of Ceylon (BOC) has opened up a great opportunity for young entrepreneurs to develop their business and contribute to strengthen both personal and national economies. This is a story of a young entrepreneur who received a Thurunu Diriya loan.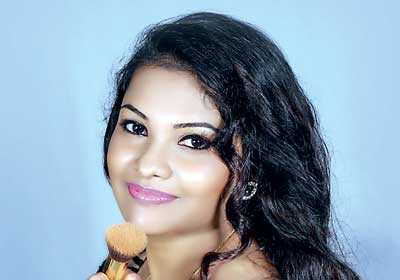 T.L.A. Sewwandi, is a 31-year-old young entrepreneur who is running a salon named 'Sayumi Bridal' in Wanduramba, Galle. She started the salon at her home about 7½ years ago and since 2016, she has shifted the salon to a separate premise in Wanduramba. She is married, she is a mother to a baby and her husband is working at Lanka Sathosa. She is supporting her husband to economically strengthen her family from the income she receives from this salon.

Due to economic difficulties, she has been carrying out the salon for the past few years with minimum facilities and infrastructure. "I came to know about the Thurunu Diriya loan scheme in the most needed time. Unlike the other loans it has a low interest rate," she said.

Officers of the Bank of Ceylon, Wanduramba branch, where she has constant contacts and one of Sewwandi's neighbours, who is working at the Small Enterprises Development Division, have informed her about the Thurunu Diriya loan scheme. Due to financial needs to improve the business and because of the low interest rate, she has applied for the loan through the specific procedure with NVQ Level 03 certificate and she also mentioned that her NVQ Level 04 certificate is pending. Since she has all the requirements to receive the loan, she could easily get through the loan application process and received the loan.

She received a loan worth Rs. 500,000 a few weeks ago. She has used the loan to expand the salon premises and to buy new equipment needed for the salon. She has brought equipment like 'Shampoo bed', 'Facial bed', 'Hair cutting chairs' and a showcase for her salon.

"As I could expand the area of my salon with the Thurunu Diriya loan, I am hoping to hire two assistants for my salon," she said explaining her future plans.

The Bank of Ceylon in collaboration with the Policy Development Office (PDO) of the Prime Minister's Office and the Central Programme Management Unit (CPMU) of the Ministry of National Policies and Economic Affairs implemented the Thurunu Diriya loan scheme. It provides loans without a guarantor and collateral or with lenient guarantor conditions for young entrepreneurs under 35 years of age, who possess a degree or a recognised vocational certificate and were in the business for not less than three years. Further details of this loan scheme can be obtained from the Bank of Ceylon branches or the divisional secretariats island-wide.