---
By Wealth Trust Securities

The fresh trading week commenced on a dull note yesterday with limited trades of the 01.10.22, 15.07.23, 15.01.26 and 15.01.27 maturities taking place at levels of 5.95% to 6.03%, 6.49% to 6.50%, 6.40%, 7.40% and 7.90% respectively.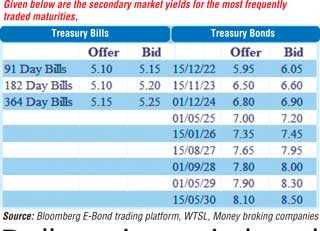 The weekly bill auction due today will see a total amount of Rs. 45 billion on offer, consisting of Rs. 9 billion of the 91-day maturity and Rs. 18 billion each of the 182-day and 364-day maturities. At last week's auction, the weighted average yields of the three maturities were 5.10%, 5.13% and 5.18% respectively, reflecting an increase of one basis point each on the 91 and 182-day maturities and a three basis point increase on the 364-day maturity.

The total secondary market Treasury bond/bill transacted volume for 23 April was Rs. 6.55 billion. In money markets, the weighted average rates on call money and repos remained mostly unchanged at 4.66% with the overnight surplus liquidity standing at Rs. 155.70 billion.
USD/LKR
In the Forex market, USD/LKR rate on the more active one-month forward contracts were seen closing the day at Rs. 200/203 against its previous day's closing levels of Rs. 202/204.

The total USD/LKR traded volume for 23 April was $ 55.35 million.

(References: Central Bank of Sri Lanka, Bloomberg E-Bond trading platform, Money broking companies)