By Charumini de Silva

Special Assignments Minister Dr. Sarath Amunugama on Tuesday called for deepening financial inclusion in South Asia, while commending the microfinance industry that serves in bridging an important gap in financial markets in the region.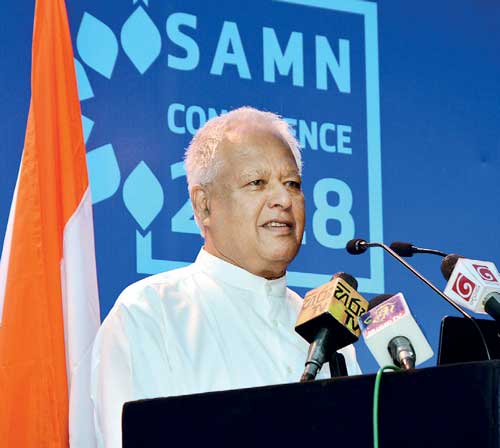 Delivering the keynote address at the South Asia Micro-Entrepreneurs Network (SAMN) held in Colombo, he said the region had a large population that needed special government intervention to bring them onto the growth path.

"One of the key reasons why South Asian countries have poor people is that they don't have access to finance. This is a major issue that we all have to find solutions for, to ensure sustainable development," he pointed out.

Dr. Amunugama said the main categories that look for easy money were for consumption and investments. However, sadly most poor people obtain a fair part for symbolic events and for consumption purposes, while only a few obtain credit for investments in agriculture or other small-scale businesses.

He highlighted the importance of microfinance institutions reaching out to those engaged in small-scale businesses which will enable to lift them out of poverty and empower them to make a valuable contribution to the national economy.

The Minister paid a special tribute to women who had obtained microfinance facilities, with a great track record particularly in repayments.

"One thing we found is that rural women are very good entrepreneurs. They are very good paymasters and much better than the rich capitalists. Whatever they borrowed, their debt repayment was well above 90% to 95%. The poor always pay their loans; it is the rich who run away," he added.

Pointing out that there are around 7,500 such agencies collecting money, lending and supervising, Dr. Amunugama said it was not possible for the Central Bank to oversee all these institutions amidst its regular workload.

He insisted that the industry needed to come up with guidelines to safeguard investors as well as borrowers.

"More legislation and supervision is needed. Microfinance leads to more and more growth in development of supply chains. Credit has to flow into the rural economy to increase production. It is important for the practitioners to look at investments that lead to refinement in their production methodology so that the rural economy is linked to a production chain," he said.