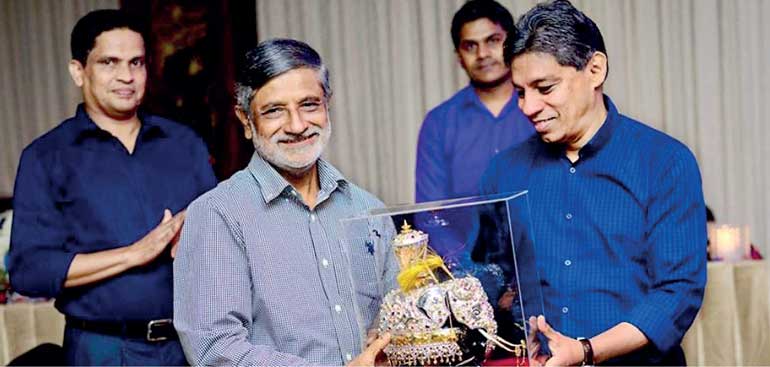 D.P. Kumarage given a token of appreciation by People's Leasing and Finance Plc CEO Sabree Ibrahim
D.P. Kumarage, CEO of the leading non-bank finance company People's Leasing & Finance PLC, bade adieu to his 20-year vibrant career. Kumarage is the leader who took PLC to greater heights to position it as the leading non-bank finance sector in the country.

A farewell ceremony was held at PLC head office and other branches simultaneously to pay gratitude to the great leader who elevated the status of PLC and added immense value via innovations to the leasing sector in the country.

When People's Leasing was incorporated in 1995 as a wholly-owned subsidiary of People's Bank, the biggest market share for leasing was enjoyed by the non-bank finance sector.

Within a short span of time, as the CEO of PLC, Kumarage took the company to the helm of its business converting it to become the 'market leader' in the non-bank finance sector in the country. His visionary leadership enabled PLC to maintain the market leader status consecutively for 15 long years.

Kumarage became the CEO/General Manager of PLC in 1997 and until his retirement he held office with vigour and commitment with the unwavering support of his staff.

Kumarage in his capacity went beyond contributing towards PLC and welfare of its staff by adding value via innovations to the leasing fraternity in the country, uplifting the transport sector in the country and nurturing welfare of the society through CSR.

Innovations made by Kumarage apart from leasing too are significant. One example is his introduction of a performance based culture to PLC as against typical annual increment procedure carried out by the government sector organisations.

This move increased vigour and commitment of PLC staff to excel in their work and it resulted in the company making greater revenue and enhancement of the customer base.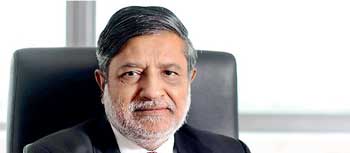 Kumarage was a leader who paid great respect to business ethics. He made PLC a company that do not make emphasis solely on revenue generation but also builds cordial relationships with its customers. He always stressed the need to make lives of the customer better to sustain the company's market share. He considered his customers, the true ambassadors of PLC.

This 'socially responsible' business principle introduced by Kumarage especially made the SME sector in the country flourish shedding light on a new business segment.

PLC with Kumarage's leadership introduced special loan schemes to local private bus owners elevating transport sector in the country to greater heights. Private bus owners have made great reliance on PLC and the company still sustains that position.

Kumarage is a person who made special emphasis on CSR. He initiated a CSR project to enhance facilities in Colombo National Hospital's emergency unit. Further within his 20-year stint at PLC he developed facilities of rural hospitals and schools. He contributed to nature conservation projects via CSR and always made emphasis on elevating the social standards of people.

Kumarage also contributed to the reviving north of the country by re-constructing Kodikaamam railway station and Medawachchiya bus stand in collaboration with People's Bank.

More than everything else Kumarage is a real gentleman, a humble human being and great leader.