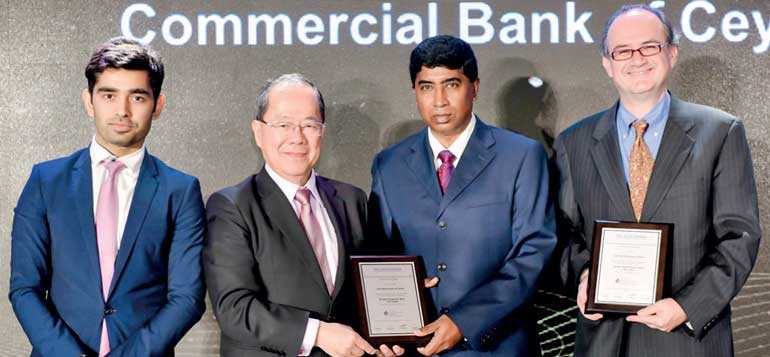 Commercial Bank's Regional Manager Sivasubramaniam Ganeshan (second from right) accepting the awards on behalf of the Bank at the Asian Banker Transaction Awards at China World Hotel, China
Adjudged'Best Transaction Bank in Sri Lanka' and 'Best Trade Finance Bank in Sri Lanka'
The Commercial Bank of Ceylon has been honoured with the awards for 'The Best Transaction Bank in Sri Lanka' and 'The Best Trade Finance Bank in Sri Lanka'at the2018 Asian Banker Transaction Awards,adding two more prestigious titles to its extensive collection of accolades.

The Asian Banker Transaction Awards recognise Commercial Bank's leadership in trade finance, payments processing,and payment services, as well as the results of a survey of domestic financial institutions that use the Bank's trade finance, and in-depth interviews with the Bank's senior management.

The assessment also took into consideration the growth of the Bank's transactions revenue and transaction profit and overall income contribution of transaction services to the Bank.

These awards also recognise the transaction services provided by Commercial Bank to corporates and SMEs, usage rates and growth of digital banking, ERP systems, branches and other channels, its online banking facilities, the bank's client service improvement budget, IT budget for transaction services, and technology investment for 2018.

The level of connectivity and automation provided to corporate customers to access the Bank's services, and the measures taken by the bank in relation to risk management and compliance too were looked at as qualifiers for the awards.

Commenting on the receipt of these two awards, Commercial Bank's Chief Operating Officer S. Renganathan said: "The comprehensive assessment conducted for these awards encompasses some of the most critically important areas of banking operations. These awards are therefore a valuable endorsement of how we have excelled in many fundamental aspects that are key to performance."

The selection process for winning an Asian Banker Transaction Award is a rigorous one, completed over several monthsand involves feedback and interviews with all constituents who are in a position to comment onthe candidates. It is anchored by a panel of global leaders and subjectmatter experts as advisors.

Notably, the Asian Banker Magazine named the Commercial Bank of Ceylon the 'Strongest Bank in Sri Lanka' in 2016 and 2017 after a detailed and transparent scorecard compiled and analysed following an independent assessment of six areas of balance sheet financial performance – the ability to scale, balance sheet growth, risk profile, profitability, asset quality and liquidity.

Incorporated in 2006,the Asian Banker Business Achievement Awards are widely acknowledged by the financialservices industry as the highest possible accolades available to professionals and banks in the Asia Pacific region.

In conjunction with The Asian Banker Business Achievement Awards, The Asian BankerTransaction Banking Awards programis run on a completely neutral basis and involves a team of researchers assessing over 200 submissions from financial institutions acrossthe Asia Pacific, Middle East and Africa.

The only Sri Lankan bank to be ranked among the Top 1000 banks of the world for seven years consecutively, Commercial Bank operates a network of 261 branches and 764 ATMs in Sri Lanka. The Bank has won more than 30 international and local awards in 2016 and 2017 and has over the years received multiple awards as Sri Lanka's Best Bank, Best Trade Bank, Strongest Bank and Most Respected Bank from a number of local and international institutions and publications.

Commercial Bank's overseas operations encompass Bangladesh, where the bank operates 19 outlets, Myanmar, where it has a Representative Office in Yangon, the Maldives, where the Bank has a fully-fledged Tier I Bank with a majority stake and Italy, where the Bank operates its own money transfer service.