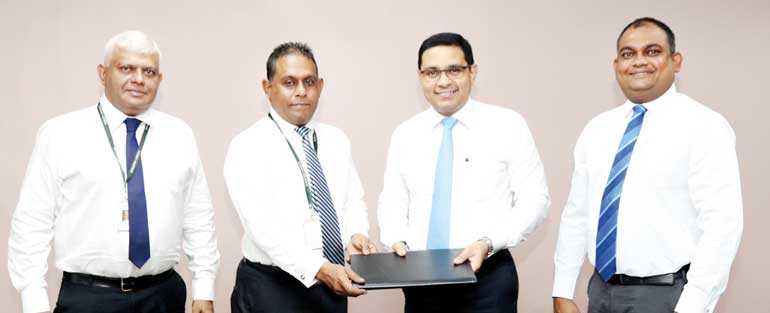 Commercial Bank Chief Operating Officer Sanath Manatunge (2nd from right) and Fairway Holdings Group Chief Executive Officer Imal Fonseka exchange the agreement in the presence of Fairway Holdings Chief Information Officer Kumar Melvani (extreme left) and the Bank's Deputy General Manager – Marketing Hasrath Munasinghe
---
The Commercial Bank of Ceylon has been chosen as the Internet Payment Gateway (IPG) service provider to the Fairway Holdings in a move to enable and facilitate online transactions for the fast-growing conglomerate.
Already, Fairway Colombo, Fairway Sunset – Galle and Fairway Aviation have been provided with Commercial Bank's Payment Gateway Service, while Go Outdoors will soon be on board, the Bank said. This merchant service provided by Commercial Bank to Fairway Holdings will cover the authorisation of Credit and Debit cards, and direct payment processing for the Group's e-businesses. Visa, Mastercard and UnionPay branded cards are the payment options through this service.

As the bank that introduced Mastercard Payment Gateway Services (MPGS) in Sri Lanka earlier this year, Commercial Bank said it will offer IPG services through the same stable, secure and reliable solution to Fairway Holdings. MPGS will provide Fairway Holdings an option to perform card-on-file transactions through tokenisation, keeping sensitive card details away from merchant's systems. It also allows customers to perform one-click online bookings fully compliant with Payment Card Industry Data Security Standard (PCI-DSS) requirements. Moreover, Commercial Bank's IPG solution provides access to a comprehensive set of fraud mitigation tools; support to both 'Mastercard SecureCode' and 'Verified by Visa' 3D secure authentication solutions. It also supports device optimised payment screens which are designed to provide a seamless experience to users of various devices. Fairway Holdings is one of the leading conglomerates in Sri Lanka spearheading growth in real estate, leisure, financial services, sustainability and renewable energy, aviation and trading. The only Sri Lankan Bank to be ranked among the world's top 1000 banks for eight years consecutively, Commercial Bank operates a network of 264 branches and 822 ATMs in Sri Lanka. The Bank has won multiple international and local awards in 2016 and 2017 and 20 international awards in the first eight months of 2018. Commercial Bank's overseas operations encompass Bangladesh, where the Bank operates 19 outlets; Myanmar, where it has a Representative Office in Yangon and a Microfinance company in Nay PyiTaw; and the Maldives, where the Bank has a fully-fledged Tier I Bank with a majority stake.