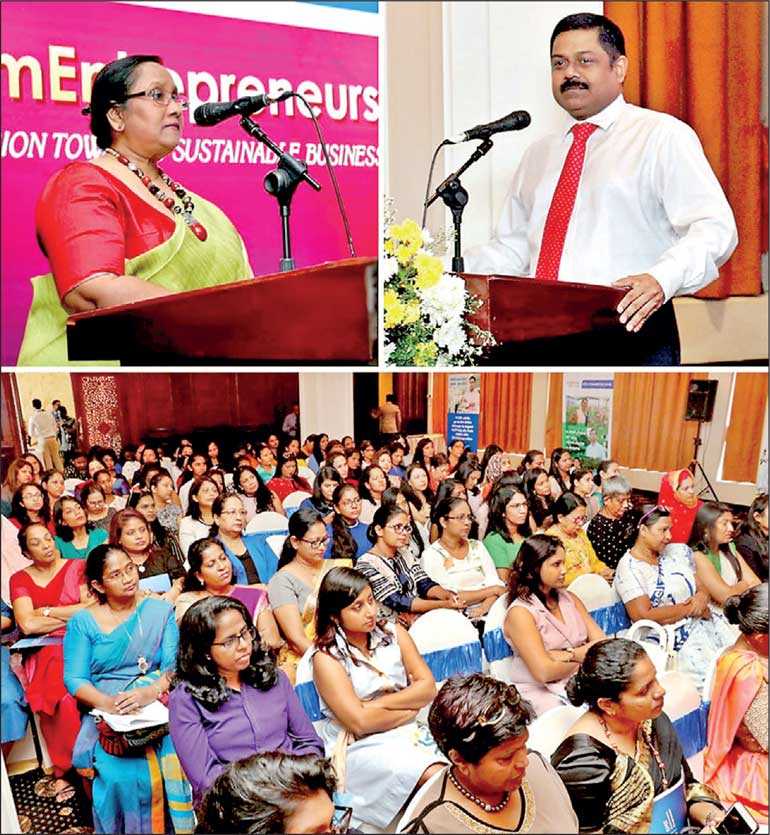 Women's Chamber of Industry and Commerce Chairperson Chathuri Ranasinghe (top left) and Commercial Bank Managing Director and CEO S. Renganathan (top right) speaking at the 'WomEntrepreneur' program
---
The Commercial Bank of Ceylon recently conducted 'WomEntrepreneur', the first program by the bank in collaboration with the Women's Chamber of Industry and Commerce (WCIC) exclusively for women entrepreneurs engaged in small and medium enterprises, with emphasis on steering a 'vision towards sustainable business.'

The program held at the Kingsbury Hotel Colombo was attended by more than 125 female entrepreneurs who were either members of the WCIC or SME clients of the bank. 'WomEntrepreneur' focused on how to evaluate and forecast one's business in a professional manner while ensuring a steady business growth and continuity by minimising wastage.

The event was inaugurated by Commercial Bank Managing Director and CEO S. Renganathan and the bank's Personal Banking Deputy General Manager Sandra Walgama. Participants were welcomed to the knowledge sharing session by WCIC Chairperson Chathuri Ranasinghe.

Presentations on 'Sustainable energy and waste management', 'Business evaluation and forecasting' were part of the program. Additionally, a presentation on an 'Employees Group Insurance Protection Policy,' and cloud-based Enterprise Resource Planning (ERP) systems was also made.

Among special participants were Asian Development Bank Sri Lanka Resident Mission Consultant and Project Manager Uresha Walpitagama, and PricewaterhouseCoopers (PwC) Director and WCIC Board Member Zahra Carder.

The only Sri Lankan bank to be ranked among the world's top 1000 banks for nine years consecutively, Commercial Bank operates a network of 268 branches and 865 ATMs in Sri Lanka. The bank has won over 80 international and local awards in 2018 and 2019, and was ranked among the 10 Most Admired Companies in Sri Lanka in 2019.

Commercial Bank's overseas operations encompass Bangladesh, where the it operates 19 outlets; Myanmar, where it has a Representative Office in Yangon and a Microfinance company in Nay PyiTaw; and the Maldives, where the bank has a fully-fledged Tier I Bank with a majority stake.