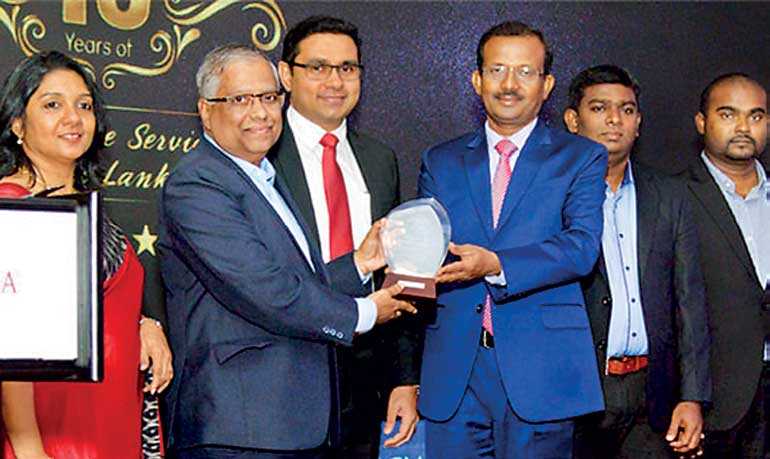 Sri Lankan Ambassador to Oman M. K. Pathmanathan (above, 3rd from right) presents a plaque to one of the Bank's business partners in Oman. Commercial Bank Chief Operating Officer Sanath Manatunge (3rd from left) is also present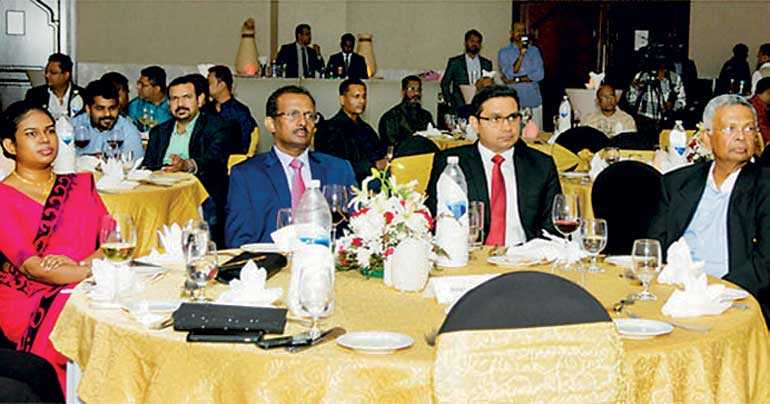 Commercial Bank Chief Operating Officer Sanath Manatunge (3rd from left) at the event in Muscat
---
The Commercial Bank of Ceylon recently commemorated the milestone of 10 years of remittance services to Sri Lanka from Oman, by hosting the management and employees of Exchange Houses and the Bank's premier customers in the Sultanate to an event in Muscat.
The event at the Crowne Plaza hotel was graced by Sri Lankan Ambassador to Oman M.K. Pathmanathan, who was the Chief Guest. Adding colour to the event, the invitees were treated to musical entertainment by popular Sri Lankan entertainers.

Speaking at the event, Ambassador Pathmanathan commended the important role played by Commercial Bank to help Sri Lankans working in Oman by providing secure and speedy remittances services.

Commenting on this milestone event Commercial Bank's Chief Operating Officer Sanath Manatunge said: "Oman is a key Middle Eastern market for remittances to Commercial Bank with approximately 18,000 Sri Lankan expatriates residing in the country."

He added that the Bank would continue to connect with its stakeholders, including Sri Lankan expatriates to provide the required services via its partners and Business Promotion Officers, and plans to offer its customers the convenience of new digitised products of the Bank.

The Commercial Bank of Ceylon commenced remittances from Oman via draft arrangements with Laxmidas Tharia Ved & Company in 1995.

Thereafter, in 2008, the Bank commenced the process of electronic remittances by establishing a partnership arrangement and placing its first Business Promotion Officer with Al Jadeed Exchange LLC of Oman, one of the top money exchangers in the country. With the placement of a second Business Promotion Officer at Global Money Exchange Company, the Bank currently has two of its Officers in Oman. It has also tied up with nine business partners covering all key regions of Oman.

Notably, in 2016, the Commercial Bank of Ceylon became the first Sri Lankan bank to link with the Bank Muscat for the purpose of instant, real-time fund transfers between Oman and Sri Lanka.

As a result, account holders of Bank Muscat can use the Bank's feature-rich mobile banking app to send cash remittances to recipients in Sri Lanka or transfer money to accounts at Commercial Bank 24/7.

They can also transfer funds to accounts at other banks in Sri Lanka via Commercial Bank.

Commercial Bank is one of the most active players in Sri Lanka in the field of remittances, offering customers a range of options including 'e-Exchange' – the Bank's own sophisticated real-time on-line money transfer service as well as the MoneyGram, Ria and Express Money remittance services. Furthermore, remitters can send money even without having an account at the Bank. The Bank has its own Business Promotion Officers (BPOs) in key markets around the world where significant numbers of Sri Lankans are employed.