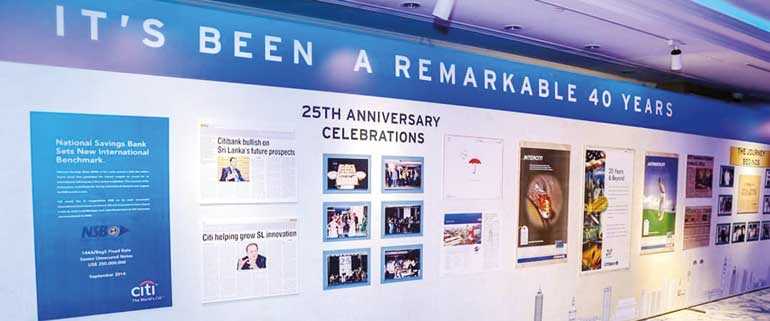 A wall depicting Citi's journey
Uses milestone to reaffirm commitment to clients
To celebrate Citi's 40th anniversary in Sri Lanka, Citi Country Officer Ravin Basnayake, together with its management team, hosted a cocktail reception for all clients, regulators, community advocates and other stakeholders at the Hilton Colombo on 16 October.
The event was graced by over 300 participants. Kicking off official proceedings, Basnayake thanked all those present for the continued support, trust and partnership they placed in Citi.

"Since 1979, Citi has offered extensive and innovative financial services and has been your International link to world markets. We have in the last 40 years connected Sri Lankan opportunities with the world and global opportunities with Sri Lanka and this will be continued in the decades to come," he said.

He extended his appreciation to each member of the Citi team on this journey of progress which would not have been possible without their continued contribution and dedication to the franchise.

Citi India Chief Executive Officer and Citi South Asia Cluster Head Ashu Khullar, addressing the event, said: "We believe Sri Lanka is strategically located to support the region, which will enable greater economic activity within the country. Over the past 40 years, we remain unwavering in our resolve to support the growth aspirations of our clients responsibly, which will drive the continued prosperity of Sri Lanka."

The event's Chief Guest State Minister of Finance Eran Wickramaratne, while addressing the attendees, shared the experience he gained during his 15-year career at Citi and detailed how the insights he gained had helped in shaping his current political career.



Delivering the vote of thanks, Citi Bangladesh and Sri Lanka Sub Cluster Head James Morrow thanked everyone for their presence, adding: "One constant is Citibank's commitment to Sri Lanka and its ambition to be the best for our clients and the broader community."

During the last 40 years, Citi Sri Lanka has been providing financial services via its Institutional Clients Group, while contributing to the development of the country's financial service sector with its innovative and world-class product solutions.

Citi, the leading global bank, has approximately 200 million customer accounts and does business in more than 160 countries and jurisdictions. Citi provides consumers, corporations, governments and institutions with a broad range of financial products and services, including consumer banking and credit, corporate and investment banking, securities brokerage, transaction services and wealth management.