Dollar struggles after deepest one-day dive in 5 months
China stocks see biggest slump in almost 2 years
Fed minutes show "many" worried inflation would stay too low
Treasuries boast best daily performance in almost three months
Europe starts subdued US crude touches 2-year peak on supply disruptions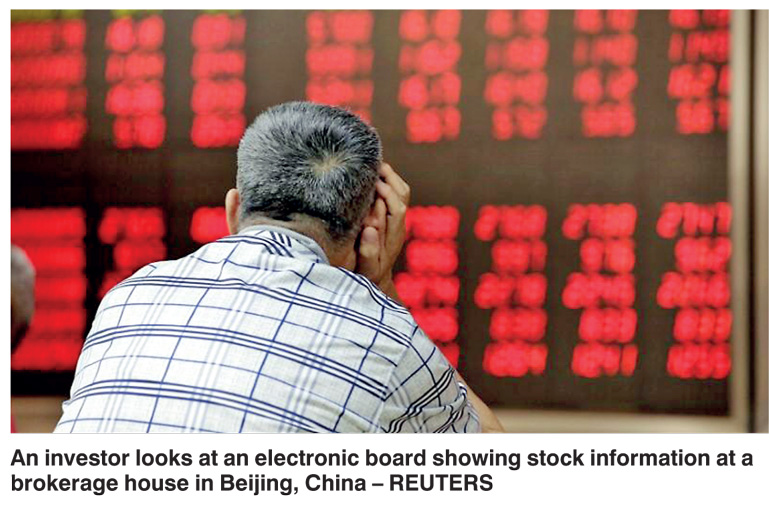 London (Reuters): The dollar was on the defensive Thursday after suffering its worst drubbing in five months, as the biggest slump in Chinese stocks in almost two years took the shine off another record high in the global bull run.

The near 3% drop in China came as its recent bond markets worries bled into equities and added to Europe's subdued mood as its main bourses opened in the red for the 10th day in the last 13.

The pan-European STOXX 600 slid 0.3% with Britain's FTSE 100 sinking 0.5% as one of its heavyweight utilities Centrica crashed over 16 in what could be is biggest daily drop ever.

Moves had expected to be minor with the United States off for Thanksgiving later. Japan had also been closed in Asia too though there was certainly no shortage of action.

The dollar's rout took it as low as 111.07 yen after minutes of the Fed's last meeting showed "many participants" were concerned inflation would stay below the bank's 2% target for longer than expected.

That view echoed comments from Chair Janet Yellen that she was uncertain about the outlook for inflation and led markets to pare back pricing for more hikes next year.

The greenback clawed back to 111.275 yen in Europe but the overnight move was the largest single-day fall against the Japanese currency since May.

"The dollar has had a rough ride in the aftermath of the Fed minutes," said CIBC's head of currency strategy Jeremy Stretch, who added there was also a growing sense among analysts that the Bank of Japan could start scaling back its stimulus.

Bonds had celebrated a comeback on the speculation the Fed might not tighten U.S. policy as aggressively as previously thought. While a move in December to between 1.25 and 1.5% is still almost fully priced in, Fed fund futures rallied to show rates at just 1.75% by the end of next year.

Borrowing costs in the euro area also crept up with minutes from the European Central Bank's October meeting, at which monthly asset purchases were extended well into 2018 albeit at a reduced pace, due later alongside a number of ECB speakers.

"The most important information to come from the accounts will be the degree of support there was for keeping QE open- ended by saying that it can be done beyond September," said Peter Chatwell, head of euro rates strategy at Mizuho.

Goldilocks vs the bears

Against a basket of currencies, the dollar was huddled at 93.184, having shed 0.75% overnight.

The euro was enjoying the view at $1.1834 after climbing from $1.1731 on Wednesday. The dollar also crumbled to 111.27 yen, near its lowest since Sept. 20.

The Fed's dovish turn helped break the inexorable sell off in short-term U.S. Treasuries, with yields on the two-year note falling almost five basis points to 1.727%. That was the sharpest daily drop since early September.

The rally spilled over into Asia, where Australian 10-year bond yields fell to their lowest since June.

MSCI's broadest index of Asia-Pacific shares outside Japan eked out a fresh 10-year peak with a rise of 0.15%, as did Hong Kong's main index.

Wall Street had been an oasis of calm in comparison, with the Dow closing for the Thanksgiving break off 0.27%, while the S&P 500 lost 0.08% and the Nasdaq added 0.07%.

Commodities were pushed onto the back foot again as the dollar started to recover in Europe. Gold dipped back to $1,287.02 an ounce having added 0.9% overnight.

Oil prices paused after hitting their highest in more than two years after the shutdown of one of the largest crude pipelines from Canada cut supply to the United States. U.S. crude futures eased back 12 cents to $57.90 a barrel, after jumping 2% on Wednesday to ground last trod in mid-2015. Brent crude dipped 18 cents to $63.03 a barrel.