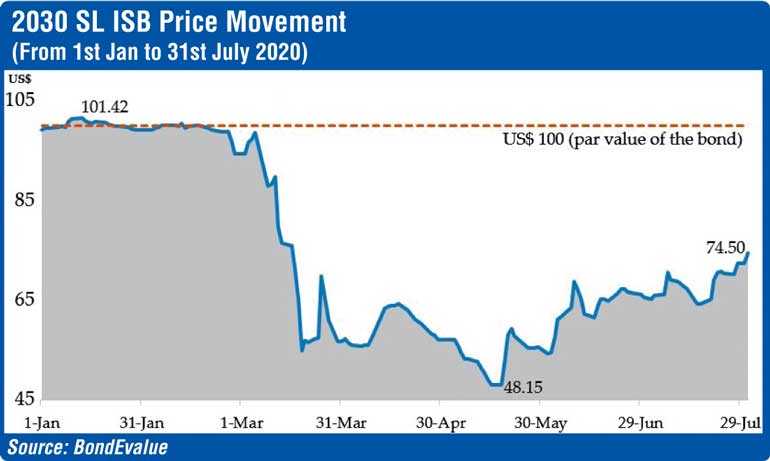 ---
The COVID-19 financial crisis led to a crash in SL Sovereign Bond prices from $100 to an all-time low of 48.15 in May as investors ran to the safety of US treasuries exiting Asian bonds. The run was common to all Asian Bonds including SL sovereign Bond (ISB).
Most other Asian ISBs had recovered except for Sri Lankan Sovereign Bonds due to concerns about Sri Lanka's ability to repay the $1 billion ISB maturity on 4 October. Sri Lanka was downgraded to B- by the rating agencies (Fitch, S&P & Moody's) in April, while some international media articles discussed the possibility of Sri Lanka defaulting.

However, with Sri Lanka receiving confirmation of currency swaps for $3 billion with India ($1.4 bn) and China ($1.63 bn) in July, while the Trade Deficit halved by 50% in May 2020 (YoY). The government has also entered into a $1 billion repo (repurchase agreement) with the US, although the facility has not been drawn yet.

The Central Bank has specifically committed to repay the $1 billion sovereign bond maturity in October out of the foreign currency reserves. The above factors along with Sri Lanka's success in battling the epidemic has increased the confidence of foreign investors. As a result, the 2030 maturity sovereign bond price has increased to $74.5 reflecting a yield of 12.1% p.a on 31 July.

Once Sri Lanka honours the $ 1 billion repayment on 4 October, analysts expect foreign investor confidence to return to Sri Lankan Sovereigns. As a result, investors can expect substantial capital gains in addition to the yield of 12.1% due to an increase in sovereign bond prices.

The Ceylon Dollar Bond Fund (CDBF) invests exclusively in Sri Lanka Government guaranteed dollar Sovereign Bonds and Development Bonds. Ceylon Asset Management competes with international USD bond managers in operating the Ceylon Dollar Bond Fund (CDBF), Sri Lanka's first international sovereign bond fund that navigates global market conditions. The fund reported a performance of 10.3% in US dollar during 2019.

The CDBF is managed by Ceylon Asset Management (CAM) while Deutsche Bank AG serves as the Trustee and Custodian of the fund. CAM is an associate company of Sri Lanka Insurance Corporation Ltd. Local individual investors who hold a Personal Foreign Currency Account (PFCA), corporate investors with a Business Foreign Currency Account (BFCA) and Foreign Investors are eligible to invest in the fund.

Investors can exit at any time without penalties, and repatriate dollars to the originating bank account.

The CDBF is the only dollar-denominated Unit Trust in Sri Lanka licensed by the Securities and Exchange Commission (SEC) and approved by the Central Bank. Past performance is not an indicator of future performance, investors are advised to read and understand the contents of the explanatory memorandum on www.ceylonam.com.