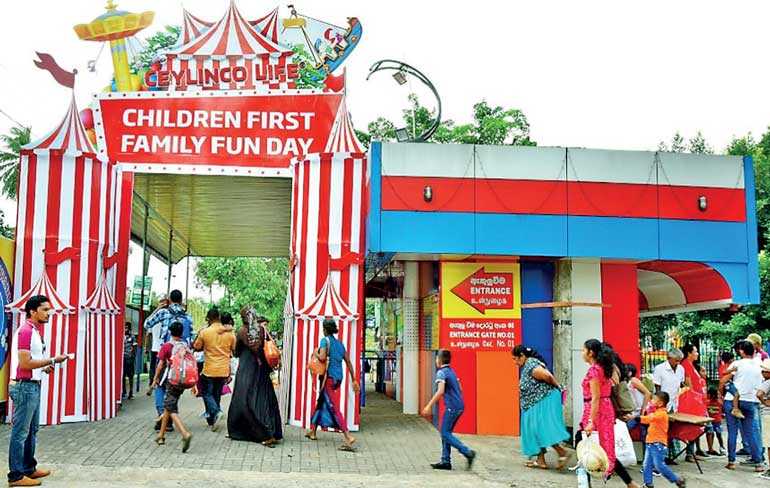 A thousand people, comprising of 300 Ceylinco Life policyholders and their family members, were treated to a day of fun at Saniro Dream Paradise, Veyangoda recently, courtesy of Ceylinco Life's 'Children First, Education Next' campaign.

The campaign, launched in February this year, emphasised the importance of families spending quality time, and provided an opportunity for new policyholders who enrolled between the months of February and April to stand a chance to be invited to this signature event.

The family fun day event included an exciting draw, which enabled one lucky policyholder family from Pelmadulla to win a tour to Universal Studios in Singapore. Four other families who purchased their policies from the Ceylinco Life branches at Peradeniya, Yakkala, Mahiyanganaya, and Wellawatte, won weekend packages to a Star-class hotel in Sri Lanka.

This mega fun family event, conceptualised, organised, and funded by Ceylinco Life, included magic shows, face-painting opportunities, candy floss stations, and surprise appearances of cartoon characters, in addition to the thrilling rides and water excursions at the park.

Families who attended the event from distant locations were provided transport and accommodation.

Commenting on the event, Ceylinco Life Director/ Deputy CEO Thushara Ranasinghe said: "As a life insurance provider that has been protecting families in Sri Lanka for the past 30 years, Ceylinco Life believes a strong family is the core of a strong society. Noticeably, over the years, time with family has been compromised, because of the undue pressure placed on children to excel at exams at any cost. This campaign ventured to address this pressing issue, and the event at Saniro Dream Paradise set the stage to bring together families for a time of togetherness and enjoyment."

The purpose of 'Children First, Education Next' campaign was to create wider awareness of the harmful effects of parents and children being obsessed with education to the extent where the wellbeing of the children becomes secondary. The campaign, which lasted two months, emphasised the importance of giving children the time, space, and freedom to think freely, spend time with family, and to enjoy their precious childhood.

Ceylinco Life commenced operations on 14 January 1988, and has been the market leader in Sri Lanka's life insurance industry for 14 of the 30 years it has been in operation. Adjudged Sri Lanka's Best Life Insurer in 2017 for the fourth consecutive year by World Finance, the company has close to a million lives covered by active policies, and is acknowledged as the benchmark for innovation in the local insurance industry, for its work in product research and development, customer service, professional development and corporate social responsibility.