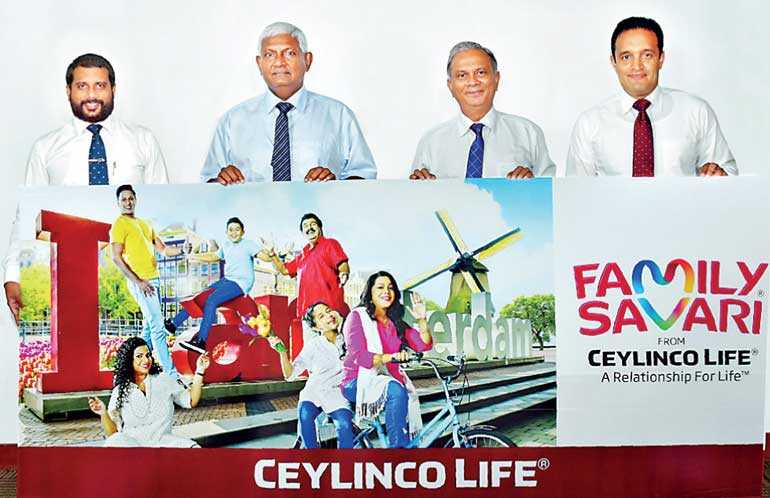 Ceylinco Life Chairman R. Renganathan and Managing Director Thushara Ranasinghe (centre left and centre right) with Ceylinco Life General Manager – Marketing Samitha Hemachandra (right) and Brand Manager – Marketing Chamath Alwis at the launch of the latest Family Savari promotion
Five policyholder families to win quintessential European holiday
Total beneficiary numbers increased to 2,620
Tulip gardens, archetypal windmills and a maze of story-book canals await five lucky Ceylinco Life policyholder families with the life insurance leader's announcement of the next edition of its 'Family Savari' mega promotion, with the Netherlands as the grand-prize destination.

Besides the five grand-prize-winning families to be treated to an all-expenses-paid holiday in the Netherlands, which is acclaimed as one of the most vibrant and picturesque countries in Europe, 50 more families will win a holiday in Singapore, 100 families will be taken on a train tour to Kandy with an overnight stay at a star-class hotel, and 500 more families will have the pleasure of enjoying a day at the Leisure World theme park.

The campaign that commenced on 1 September will conclude on 31 December, and followed by a draw in January 2020 for the selection of the 655 winning policies that will benefit 2,620 people in all, a notable increase in the number of beneficiaries at this edition of 'Family Savari', the company said.

The overseas holidays and local excursions will take place in the first half of 2020.

Grand-prize winning families at previous Family Savari promotions have visited Australia, Italy, England, Germany, Switzerland, Japan and France. In all, more than 26,000 people have been rewarded with the Family Savari experience over the past 12 years under this promotion, acknowledged as the largest customer promotion in Sri Lanka's life insurance sector.

Conducted annually since 2006, the Ceylinco Life Family Savari promotion is intended to increase the penetration of life insurance and to reward policyholders for keeping their policies active. All active long term Ceylinco Life policyholders, holders of Ceylinco Life Retirement Plans and new policyholders who purchase a policy, pay three months' premium and keep their policies active are eligible to win these holidays. Depending on the size of their policies or the balances in their Retirement Plans, some policyholders would be eligible to qualify for the draws for all four categories of prizes.

Emphasising the value of loyalty, policyholders will also receive one additional winning chance for every year they have been with Ceylinco Life, up to a maximum of 15 winning chances for those who have been active policyholders of the company. Additionally, policyholders who have paid a minimum of three premiums using direct payment methods (such as bank standing orders) will receive an additional winning chance.

Ceylinco Life's Family Savari program is promoted by four popular brand ambassadors, the Sri Lankan actors Sriyantha Mendis, Sanjeewani Weerasinghe and Roshan Ranawana and his wife Kushlani who join policyholders on their overseas holidays and local excursion.