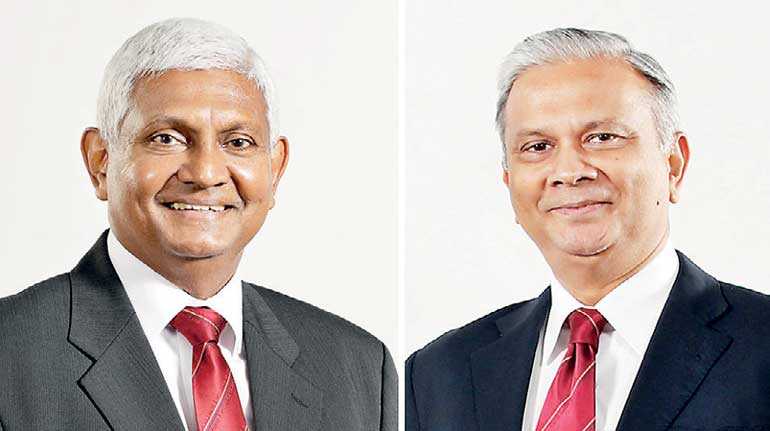 Ceylinco Life Chairman R. Renganathan (left) and Managing Director/CEO Thushara Ranasinghe
---
Remains No. 1 in Life insurance for 15th successive year with premium income of Rs. 17.8 b
Assets up Rs. 11.96 b to Rs. 118 b, investments grow to Rs. 103.74 b
Ceylinco Life has reported total income of Rs. 29.21 billion for the year ending 31 December 2018, outperforming industry averages in its core business to record premium income of Rs. 17.8 billion, an improvement of 13% over the previous year.

Announcing its 15th consecutive year of market leadership in Sri Lanka's Life insurance industry, Ceylinco Life said investment income had grown 10.83% to Rs 11.39 billion for the year reviewed, an anticipated result in the context of the conditions that impacted on investment returns in 2018.

The company posted profit before tax of Rs. 7.16 billion, reflecting an increase of 12.69% after discounting a one-off surplus of Rs. 3.4 billion that boosted the profits of 2017, following a regulatory change in the basis of the valuation of life funds.

Profit after tax for the year totalled Rs. 5.79 billion, a material reduction consequent to the company's tax provision increasing fourfold in the year under review, from Rs. 340 million in 2017 to Rs. 1.363 billion in 2018, under the new Life insurance tax regime introduced by the Government.

"Extending the protection of Life insurance to as many people as possible remains our core business, but the success of a Life insurance business is also dependent on how it invests and manages policyholders' funds," Ceylinco Life Chairman R. Renganathan said.

"In that respect, it has been a good year for the company, even though the investment market softened and incomes of our prospective customers continued to be under pressure. Considering these factors, our success in increasing our share of the Life insurance market is particularly noteworthy."

Ceylinco Life's investment portfolio grew by a robust 12.44% over the 12 months to Rs. 103.74 billion as at 31 December 2018, while total assets increased by 11.28% to Rs. 118 billion.

The Company's Life Fund grew to Rs. 88.05 billion following a transfer of Rs. 6.46 billion during the year. Shareholders' funds increased by Rs. 5.78 billion or 27.99% to Rs. 26.43 billion.

Ceylinco Life's net assets value per share, discounting the impact of the one-off surplus of 2017, stood at Rs. 528.51 as at 31 December, from Rs. 343.81 at the end of the previous year, reflecting an improvement of Rs. 184.70 or 53.72%. Earnings per share for the review period totalled Rs. 115.89, while return on equity was 21.93%.

Adjudged Sri Lanka's Best Life Insurer in 2018 for the fifth consecutive year by World Finance, Ceylinco Life first achieved market leadership in 2004 and has now been the market leader in Sri Lanka's Life insurance industry for 15 of the 31 years it has been in operation.

The company has close to a million lives covered by active policies and is acknowledged as a benchmark in the local insurance industry for innovation, product research and development, customer service, professional development and corporate social responsibility.