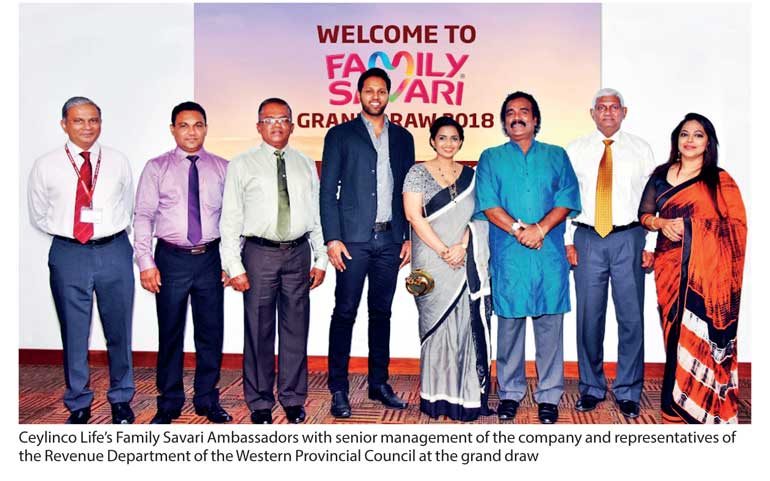 Life insurance leader draws 765 winners at the Grand Draw of Family Savari 11
Selfies by the Trevi Fountain? Check. A tour of the ancient Colosseum? Check. Posing with some of Michelangelo's best works? Check. These and many more of Rome's attractions can soon be checked off the wish lists of the winners of the grand prize in the 11th edition of Ceylinco Life's 'Family Savari' mega promotion.

Five policyholder families from Anamaduwa, Wellawatte, Wennappuwa, Thambuththegama and Piliyandala won an all-expenses-paid holiday in Rome at the Family Savari grand draw, while another 10 families were selected for a tour of China, a further 25 families to visit Singapore, and 725 families for a day at the Leisure World theme park.

These winners will be joined by another 25 families drawn at a mid-promotion draw for the Singapore tour and another 275 families that won a trip to Leisure World at the same mid-promotion draw. All tours and the local excursion will take place between May and June this year.

A total of 4,260 people from 1065 policyholder families have won overseas holidays or the local excursion from Ceylinco Life at this year's Family Savari, taking the total number of people benefitted by the promotion to date to nearly 24,000.

"The first decade of the Family Savari program was a momentous one for Ceylinco Life and its policyholders," said Ceylinco Life Managing Director/CEO R. Renganathan. "The promotion has become a new paradigm in engagement with policyholders, and in this, the 11th edition of Family Savari, we decided to almost double the number of people who would benefit."

Over the past five years, Ceylinco Life has presented winners of the grand prize at the Family Savari with holidays in Japan (2014), Switzerland (2015), Germany (2016), England (2017) and Rome (2018). Policyholders eagerly await the announcement of the new destination every year, when the promotion begins in August or September.

The promotion period for Family Savari 11 ended in December 2017. All active long term Ceylinco Life policyholders, holders of Ceylinco Life Retirement Plans and new policyholders who purchased a policy and paid three months' premium and kept their policies active were eligible to win these holidays. Depending on the size of their policies or the balances in their Retirement Plans, some policyholders were eligible to qualify for the draws for all three foreign tours.

Emphasising the value of loyalty, policyholders received one additional winning chance for every year they have been with Ceylinco Life, up to a maximum of 15 winning chances for those who have been active policyholders of the company. Additionally, policyholders who paid a minimum of three premiums using direct payment methods (such as bank standing orders) received an additional winning chance.

Ceylinco Life's Family Savari program is promoted by four popular brand ambassadors, the Sri Lankan actors Sriyantha Mendis, Sanjeewani Weerasinghe and Roshan Ranawana and his wife Kushlani who join policyholders on their overseas holidays and on the local excursion.

The market leader in Sri Lanka's life insurance sector since 2004, Ceylinco Life has close to a million lives covered by active policies. The company is acknowledged as the benchmark for innovation in the local insurance industry for its work in product research and development, customer service, professional development and corporate social responsibility.