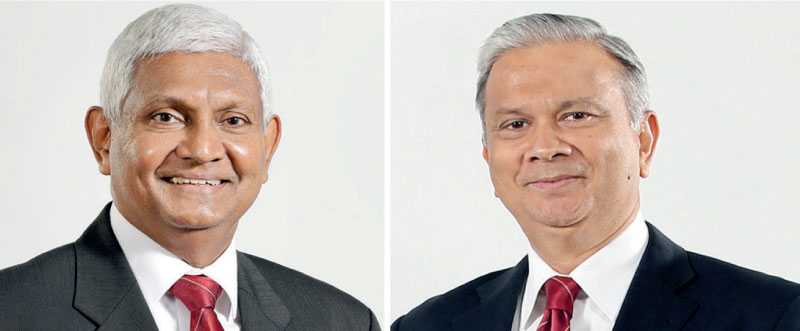 Ceylinco Life's Chairman R. Renganathan (left) and Managing Director/CEO Thushara Ranasinghe 
---
The COVID-19 pandemic tested the mettle of virtually every business on the planet. Some went under, many are still struggling, some survived relatively unscathed, and a select group achieved growth and progress to end 2020 stronger. In this interview, Ceylinco Life's Chairman R. Renganathan and Managing Director Thushara Ranasinghe reflect on the year that was and its lessons. Excerpts:


Q: The year 2020 was universally challenging for businesses. How did Ceylinco Life fare, overall?

Renganathan: It was a year of multifaceted challenges that tested the contingency plans of most companies. Businesses were compelled to balance the imperatives of keeping revenue generation going with ensuring the safety and wellbeing of employees as well as customers. The impacts of the lockdown continue to be felt by many companies. However, Ceylinco Life has ended the year in better shape than most. Our financial figures for 2020 have not been released as yet, but I can say at this point that we achieved a growth in all business KPIs even as we improved our platforms to conduct interactions with customers digitally. 


Q: How did the company achieve this in the face of the disruptions caused by the pandemic?
Ranasinghe: I think the key to our success was how quickly we were able to adapt to the changing situation. Companies do prepare for contingencies, but when there is sudden, near cataclysmic change, only the most agile can respond instantly. At Ceylinco Life, we had already deployed available digital technology to facilitate convenience for customers and enhance the efficiency of our sales force. We began equipping our staff with digital devices several years ago. 

Therefore, the management team was able to conduct Business Continuity Plan meetings via Zoom within days of the first lockdown in March. This enabled the company to continue with the work uninterrupted and employees were able to seamlessly transfer to working from home with laptops and the connectivity provided to the majority of them. Physical meetings were replaced with online meetings both at head office and in branches. As far as was possible, we maintained the momentum of our operations with a 'business as usual' approach although the way we delivered services was different and stringent health and safety protocols had to be observed.


Q: Given that selling life insurance requires close interaction with the prospective client, how did Ceylinco Life manage this dynamic?
Renganathan: Life insurance is not easy to sell, and the products can be complex, requiring explanation of the features and the terms and conditions. Therefore, we needed to do several things – develop simpler products for new customers, upsell to existing policyholders, and simplify and automate the processing. In terms of products, we promoted simple online insurance plans. In terms of processing, we effectively used our e-submission system, which makes it possible for a sales person to convince and close a sale without meeting the customer face to face and to obtain digital signatures, and for payments to be made digitally. Social media was used extensively to engage with customers, and we used operations staff at branches to inquire into the wellbeing of customers and also to assist them to revive their policies.


Q: How did the company supervise and interact with staff and sales teams in 250 plus branches around the country in 2020?
Ranasinghe: The directors continued to have meetings online with the heads of the sales team on a weekly basis. All other meetings at our head office were also conducted online. The sales teams in turn had their group meetings via online platforms, and messaging apps were used to disseminate information and updates to the sales force. The staff at head office was split into two teams to ensure work continued uninterrupted. The two teams worked at separate locations and in some instances one team worked in the office while the other team worked from home. 

The company also introduced a method where sales leads were obtained digitally and passed on to the sales force. This enabled the sales teams to introduce new business even when not being able to go out to meet customers. The digitalisation of processes in the sales function such as e-submission and the fact that sales officers had all the information they needed on their tabs enabled the sales teams to carry on with their work.


Q: What new products did Ceylinco Life develop as a response to the 'new normal' environment, and how did they help?
Renganathan: In the early days of the first lockdown, we launched 'Contactless Life Insurance' with uncomplicated Online Life Insurance and Retirement plans that could be purchased as well as paid for, via the Ceylinco Life website, offering life insurance protection or an investment in retirement that could be obtained in a matter of minutes without venturing out of one's home. The online plans are easy to access, understand and purchase and are available 365 days of the year. 

They offer an optional Accidental Death Benefit as well as a Critical Illness option which covers 36 critical illnesses, which is the same as the standard Critical Illness Cover from the Company. The online retirement plan too is easy to understand and the completion of the process takes less than 10 minutes. For payments, we activated web-based, mobile-phone based and app-based payment options to ensure policies would not lapse during the period of curfew and self-quarantine, kept the company's call centre active and monitored our social media messaging sites to respond to customer queries.

We also focused on upselling to our current customer base through the communication of customised quotations direct to the customers.

For speedy settlement of claims, we advised policyholders that needed to make a claim to call our call centre, which would then set the process in motion by arranging for necessary documents to be sent via email or WhatsApp for claim settlement direct to the policyholders' accounts.


Q: How did the company manage its engagement with its policyholders around the country in 2020?
Ranasinghe: Engaging with customers face-to-face was not possible and not advisable due to the pandemic, but we made a conscious effort to ensure that our policyholders would not lose out on the benefits of such direct interactions, such as the Family Savari mega promotion or the Pranama scholarships program. Conceding that going on overseas tours or local excursions was not possible, we modified the Family Savari promotion which was in its 14th year, to provide policyholders an opportunity to win Rs. 30 million in gold instead. We also continued with the Pranama scholarships program in 2020, as a result of which we hope to present another 160 scholarships to high-achieving students in the first half of 2021. 

Additionally, we conducted several mass communication campaigns highlighting the importance of following safety guidelines and expressing our appreciation for workers at the frontline of the battle against the spread of COVID-19 and introduced a Health Insurance Awareness Month to raise awareness of the importance of ensuring that customers were adequately covered for health issues such as critical illnesses.
 

Q: How did the pandemic affect Ceylinco Life's portfolio of community initiatives?
Renganathan: One matter for regret is that we could not continue our 'Waidya Hamuwa' program, which is a series of health camps in rural areas at which large numbers of people are provided an opportunity to undergo free diagnostic tests and meet a team of doctors for check-ups and advice. We have run this program for more than 15 years, but the situation in the country did not permit continuing it in 2020. We did, however, continue with our other community initiatives, including supporting regional hospitals with essential equipment. The Point Pedro Base Hospital and the Velvettithurai Divisional Hospital benefitted in 2020, and we continued with our program of building classrooms for needy schools with two classroom buildings being built and donated during the year. 

Additionally, we made a series of donations of equipment and materials related to the COVID-19 pandemic. These included a donation of surgical boots to the Infectious Diseases Hospital, a donation of surgical masks for the use of medical staff at the Jaffna Teaching Hospital, the donation of two non-invasive ventilators to the COVID-19 Presidential Task Force and the distribution of Personal Protective Equipment to 111 police stations in the Western Province.


Q: Overall, what was the most noteworthy lesson that 2020 taught Ceylinco Life?
Ranasinghe: That life must go on come what may, and being ready to adapt at the blink of an eye can be the secret to survival. Life insurance talks about the uncertainty of life and the need to expect the unexpected all the time. COVID-19 showed the entire world the uncertainty of life and how life can suddenly change. Therefore, it is important that all businesses are ready to face sudden and drastic change at any time. Businesses that are flexible and able to adapt to change very quickly are those that will not just survive, but convert challenges to opportunities.