Top performer receives luxury Mercedes Benz
The spearheads of Ceylinco Life's remarkable growth in 2017 were recognised at a gala awards ceremony, which coincided with the company's 30th anniversary celebration, at which the life insurance leader honoured 261 members of its sales and non-sales teams with 457 performance awards.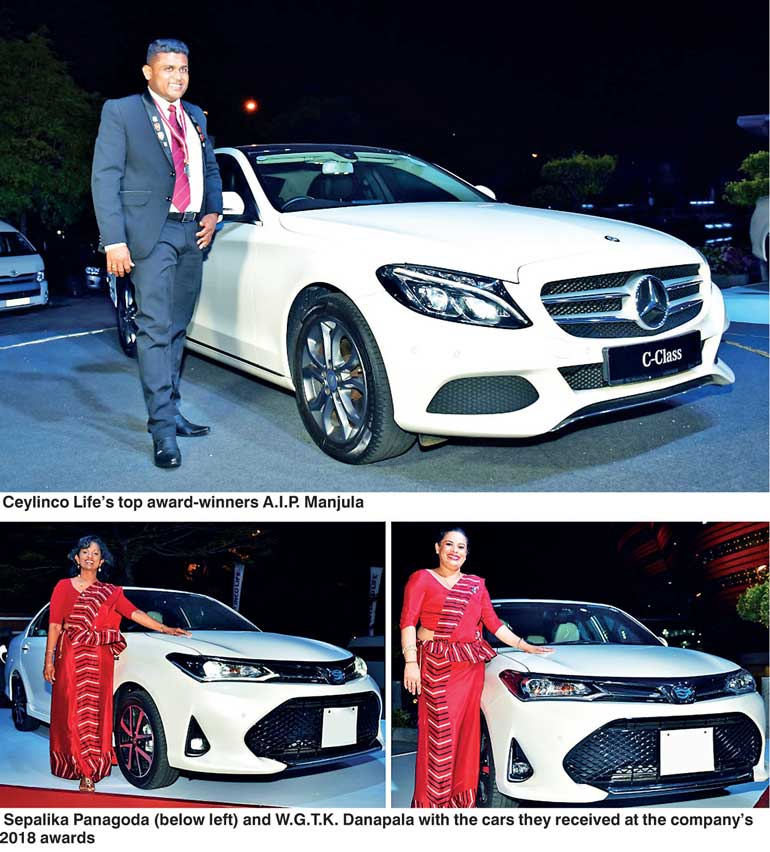 Themed '30 years of caring', this annual awards ceremony also celebrated the 14th successive year of Ceylinco Life's market leadership in Sri Lanka's life insurance industry.

The highlight of the event at the Nelum Pokuna Theatre was the presentation of a luxury Mercedes Benz sedan and two Toyota Axio cars for the use of top achievers, another first in the local life insurance market. High achievers were also presented with overseas tours, certificates, medals and trophies.

Staff members, sales consultants, unit heads and branch heads from the Ceylinco Life head office and more than 250 branches in every district of the country were recognised for their contribution to the company's outstanding results last year, with some top performers winning multiple awards.

Among those honoured were 43 members of Ceylinco Life's sales force who qualified for the Million Dollar Round Table (MDRT) in 2017, one MDRT member among them who achieved Court Of Table status and 120 sales officers inducted into the company's own High Flyers' Club last year. There were also three Retirement Planners Club winners.

Speaking at the event and tracing the 30-year journey of the company, Ceylinco Life Managing Director/CEO Renganathan recounted how Van Winfree, the former Vice President for Marketing at Metlife, helped set up the company. Winfree is said to have explained the "miracle of Life Insurance" as "a life company that mobilises the small savings of people which are then invested in the government and the private sector."

Renganathan said that today, with a life fund of over Rs. 85 billion, Ceylinco Life plays a major role in the economy of the country, providing protection to hundreds of thousands of families, employment, income, homes and modes of transport to a large portion of the workforce.

The top award winners at this year's annual awards of Ceylinco Life were Best Branch Head (Veteran category) – S. Dharshan of the Colombo North I branch; Best Unit Head (Male Veteran category) – J.V.S. Harischandra of Nittambuwa 1 branch; Best Unit Head (Female Veteran category) - M. Janagan of the Wellawatta 2 branch; Best Sales Consultant (Male Veteran category) – A.I.P. Manjula of the Ambalantota II branch; and Best Sales Consultant (Female Veteran category) – W.G.T.K. Danapala of the Bandarawela 3 branch.

The high point of the ceremony was when the winners who met Ceylinco Life's 'Hall of Fame' criteria were presented with special prizes. A.I.P. Manjula received a Mercedes Benz C Class car while two Toyota Axio cars were awarded to W.G.T.K. Danapala and Sepalika Panagoda of Corporate Sales.

Ceylinco Life ended 2017 with assets of Rs. 106 billion, total income of Rs. 25.6 billion, premium income of Rs. 15.7 billion, a Life Fund of Rs. 85.1 billion, an investment portfolio with a value in excess of Rs. 89.5 billion and net profit of Rs. 6 billion, making it the market leader in the country's life insurance industry for the 14th successive year.

Adjudged Sri Lanka's Best Life Insurer in 2017 for the fourth consecutive year by World Finance, Ceylinco Life is acknowledged as the benchmark for innovation in the local insurance industry for its work in product research and development, customer service, professional development and corporate social responsibility.