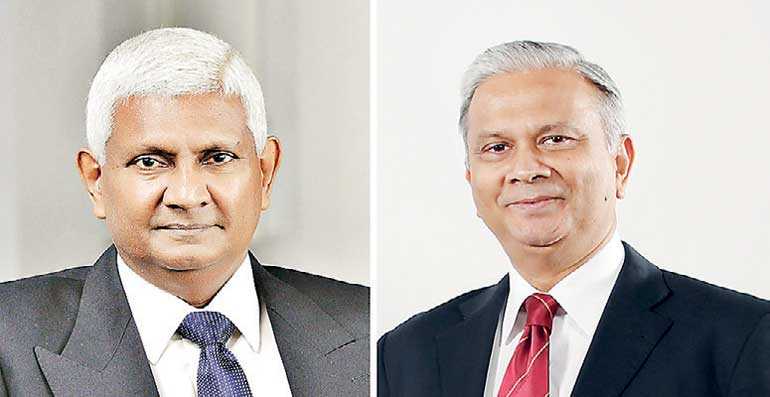 Ceylinco Life Managing Director/CEO R. Renganathan

(left) and Director/Deputy CEO Thushara Ranasinghe
Ceylinco Life has more than doubled pre and post-tax profits at the end of the second quarter of 2018, sustaining its growth momentum with consistent operational performance.

The life insurance market leader has reported profit before tax of Rs. 3.338 billion for the six months ending 30 June 2018, an increase of Rs. 1.71 billion or 105% over the first half of last year.

Profit after tax for the six months grew by more than Rs. 1.678 billion or 123.68%, while income tax expenses increased by 11%.

Ceylinco Life's net income of Rs. 13.274 billion for the period reviewed reflected an improvement of 11%, with net premium income growing 12.29% to Rs. 8 billion and investment income up 10.31% to Rs. 5 billion.

The company's investment portfolio grew by 11% to Rs. 102 billion as at 30 June 2018.

"It has been an encouraging first half of the year, even considering the fact that the results for the full year of 2017 were positively impacted by a one-off surplus of Rs. 3.456 billion to net profit, generated by a change in the basis of the valuation of Life Funds," Ceylinco Life Managing Director and CEO R. Renganathan said. "As always we have kept our eyes on the ball, focussing on the fundamentals of life insurance and prudent funds management."

The company's Life Fund recorded growth of 3.2% to reach Rs. 84.377 billion at the end of June 2018.

Total assets increased by nearly Rs. 10 billion or 9.3% from end 2017 to Rs. 116 billion at the end of the period under review.

Net claims and benefits paid by Ceylinco Life to policyholders during the six months surpassed Rs. 4.4 billion.

Ceylinco Life's Basic earnings per share for the period increased by Rs. 33.57 or 123.6% from Rs. 27.14 to Rs. 60.71 as at 30 June 2018.

Ceylinco Life commenced operations on 14 January 1988, and has been the market leader in Sri Lanka's life insurance industry for 14 of the 30 years it has been in operation. Adjudged Sri Lanka's Best Life Insurer in 2017 for the fourth consecutive year by World Finance, the company has close to a million lives covered by active policies and is acknowledged as the benchmark for innovation in the local insurance industry for its work in product research and development, customer service, professional development and corporate social responsibility.