---
Ceylinco General Insurance in its petition filed in the Commercial High Court, has claimed damages of Rs. 100 million from Allianz Insurance Lanka Ltd. and the said 13 ex-employees
The Commercial High Court has issued an enjoining order against Allianz Insurance Lanka Ltd. and 13 employees of Allianz insurance (former employees of Ceylinco General Insurance), preventing them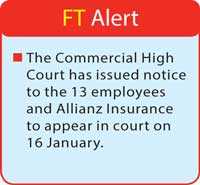 from using confidential and sensitive information which they have gathered whilst they were employed by Ceylinco General Insurance Ltd.

The said 13 employees named as the defendants are now prevented from canvassing business from clients of Ceylinco General Insurance whose details are in their possession.

The enjoining order also prevents Allianz Insurance, the 14th defendant, from entertaining the clients of Ceylinco General Insurance as per schedule presented to courts.

Allianz Insurance is also barred from entering into insurance contracts with the said clients as per the said schedule and such action shall be detrimental to the intellectual rights of Ceylinco General Insurance under the Intellectual Property Act No. 36 of 2003.

Ceylinco General Insurance Ltd., in its petition filed in the Commercial High Court, has claimed damages in a sum of Rs. 100 million from Allianz Insurance Lanka Ltd. and the said 13 ex-employees jointly and severally as a relief which amounts to acts of unfair competition under the said Act.

The Commercial High Court has issued notice to the 13 employees and Allianz Insurance to appear in court on 16 January.