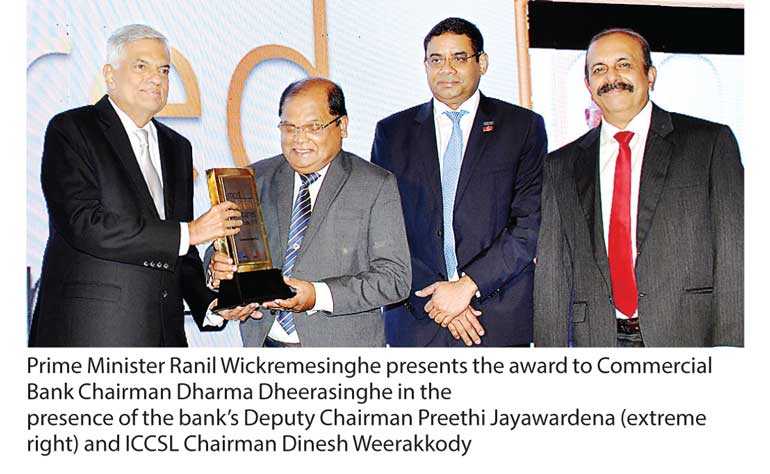 The Commercial Bank of Ceylon has been named one of the 10 'Most Admired Companies in Sri Lanka', at an awards ceremony conducted by the International Chamber of Commerce (ICC) in partnership with the Chartered Institute of Management Accountants (CIMA) Sri Lanka.

The list was announced at an awards presentation presided over by Prime Minister Ranil Wickremesinghe on 9 September.

This awards program recognises companies that outperform their peers in terms of financial performance as well as the value they create for shareholders, customers, employees and the general community. The entries were evaluated in three main areas, financial performance, social investment and compliance. As one of the leading employers in the country, the Bank said it promotes a culture of continuous learning and knowledge gathering, performance-based appraisals, work-life balance and team work. The Bank's Training and Development strategy is formulated to facilitate ultimate job satisfaction and career progression and to ensure that its staff is well-equipped with the competencies to undertake current as well as future tasks.

"Admiration and respect are always earned by being mindful of the needs and aspirations of all stakeholders," Commercial Bank Managing Director S. Renganathan said. "They are invaluable to any business venture, but even more so to those in financial services, where winning customer trust and confidence is vital. We are therefore delighted to be listed among the 10 most admired companies in Sri Lanka."

The largest private sector commercial bank and third-largest bank in Sri Lanka in terms of total assets, the Commercial Bank of Ceylon PLC accounts for a substantial portion of sector assets and serves over three million customers with staff strength of 4,982 employees both in Sri Lanka and in Bangladesh where the Bank has 19 branches. The Bank also operates a Representative Office in Yangon and a Microfinance company in Nay PyiTaw, Myanmar; a fully-fledged Tier I Bank in the Maldives and a money transfer service in Italy.