In association with Gujarat Forensic Sciences University, India
The Institute of Certified Management Accountants of Sri Lanka (CMA) will conduct a certificate program on 'Forensic Accounting & Financial Frauds' in association with Gujarat Forensic Sciences University, Gujarat, India from 20-22 September from 8:30 a.m. to 5 p.m. at the Renuka City Hotel, Colombo.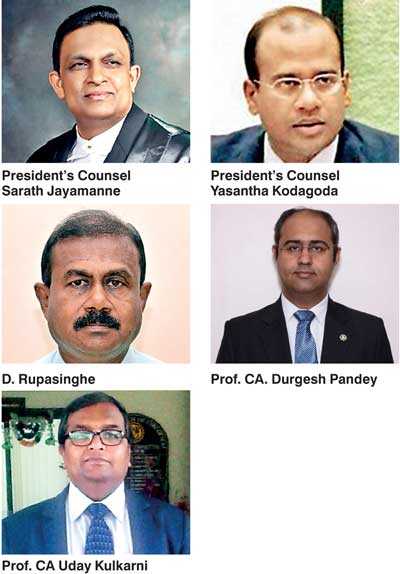 Forensic Accounting is a scientific accounting method of uncovering, resolving, analysing financial fraud matters and financial irregularities in different sectors.

The program will be inaugurated on 20 September by Sarath Jayamanna, President's Counsel

Director General, Commission to Investigate Allegations of Bribery or Corruption (CIABOC) who will deliver a keynote address on the role and functions of CIABOC and the need and importance to train professionals with knowledge in Forensic Accounting, Financial Frauds and Forensic Auditing.

There will also be keynote addresses on each day of the three-day seminar. On the second day D. Rupasinghe, Director Financial Intelligence Unit Central Bank of Sri Lanka on the overall objective of the FIU to combat money laundering, terrorist financing and related crimes in Sri Lanka in line with international standards and best practices.

On the third day Yasantha Kodagoda, President's Counsel Additional Solicitor General will deliver keynote address on 'Contributing towards Criminal Justice through Forensic Audits – The role of Forensic Auditors' and additionally he will touch on 'Expectations of Police Criminal Investigators and Prosecutors from Forensic Auditors'.

The Professors from the Gujarat Forensic Sciences University conducting the certificate program are as follows.

Prof. CA. Durgesh Pandey who is a Fellow Member of Institute of Chartered Accountants of India (ICAI) and Founder Partner of his Firm DKMS & Associates, based at Ahmedabad. He is Certified Frauds Examiner from ACFE – USA and is Pursuing PhD on the topic 'Forensic Analysis of Financial Frauds' from Gujarat Forensic Science University together with Prof. CA Uday Kulkarni who is a Senior Partner, U V K & Associates Chartered Accountants. A fellow member of Institute of Chartered Accountants of India, Certified Internal Auditor (CIA) and also Certified Information System Auditor CISA (CISA). He is also qualified as Insolvency Professional (IP) necessary under the Insolvency & Bankruptcy Code 2016. His specialties include Information system Audit-Internal Audit-Fraud Investigation.

The modern society has been witnessing massive financial irregularities among various organisations of different scales and various social strata. Forensic Accounting involves legal investigation and analysis of financial documents of any firm or client, who is involved in a legal dispute. A forensic accountant is an experienced auditor, who acts as a watch-dog of the accounts of a company, in order to keep a check on the frauds. His/her job is to determine the accuracy of financial statements of an organisation. With the growing number of fraud cases, the demand of good forensic accountants is on the rise.

The job of a forensic accountant is quite challenging, as it requires commitment, loyalty, and devotion. Understanding of psychological theories and possessing investigative skills is a must for the aspirant. His/her conclusion should not be based on any assumption or opinion. Proper research work and detailed study of accounts is required to draw a fair and unbiased conclusion.

This program will enable participants to have a basic understanding of accounting principles and transactional cycles, different type and kind of Financial Frauds/Irregularities, reasons for such frauds, impact of financial frauds as well as the analysis of financial statements and methods of manipulation of financial records.

The seminar will conclude with a Joint Certificate from Gujarat Forensic Sciences University and CMA.

This program is meant for: Management accountants, chartered accountants, professional accountants, auditors, lawyers, investigators, government officials, full and part qualified accountants, audit staff, banking staff, risk management, internal audit and computerised audit staff, company secretaries, tax consultants, regulatory authorities, connected with in anticorruption, bribery, money laundering and forensic audit and investigations

Those who wish to participate are requested to contact Shanthi on 071 4705536 or e-mail: registrations@cma-srilanka.org on or before Tuesday, 18 September. Registration is limited and will be on first come first served basis.