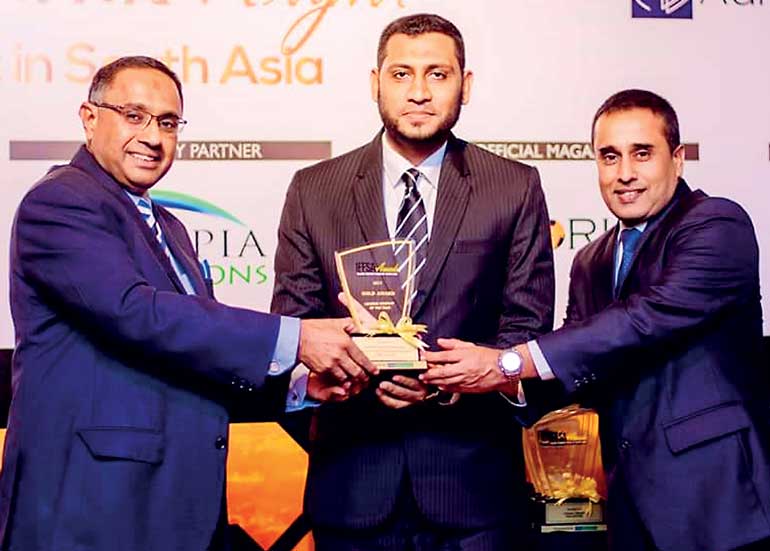 CLC-Islamic Finance, the Islamic Business Division of Commercial Leasing & Finance PLC (CLC) took home Gold at the recently concluded Islamic Finance Forum South East Asia Awards 2017. Winning the Gold award for the Best Leasing Company, Commercial Leasing & Finance company were competing with leading Islamic Banking and Finance companies from across five different nations, which included Bangladesh, India, Pakistan, Maldives and Sri Lanka.

With participants taking part in a wide range of participating companies from across South Asia, bringing home gold in the Inter-Islamic Finance arena was no mean feat, and stems from years of tireless efforts of the Islamic Business Division of CLC. With an extensive branch network comprising of over 65 across the island, CLC was recognised for its commitment to incorporating and offering Islamic Finance options across the nation. With a fully Shari'ah Compliant product range approved by a Shari'ah Supervisory Board, including Profit Sharing Investments, Term Investments, Leasing, Trade Finance, Property Finance, Working Capital Finance, etc., covers all aspects of customer requirement.

Another key element that contributed to this award was their proven pool of staff, each staff member of CLC has a fair knowledge to reliably advise customers on the various aspects of Islamic Finance. The Islamic Business Division of CLC holds regular training and workshops on Islamic Finance to educate them on product concepts and other compliant requirements.

To-date, CLC Islamic Finance become the highest profit payers in the Islamic Banking and Finance industry through a well-managed and a balanced portfolio. As for the financial year end 2016/17, the Islamic Business Division recorded 100% growth in their Assets, 400% growth in Deposits and 473% growth in Profit before Tax compared to Financial Year 2015/16.

The Islamic Business Division of Commercial Leasing Finance PLC., continues to grow from strength to strength and these type of accolades will definitely complement the hard works made by the team.