From left: Moderator Spark Actuarial and Risk Consultants CEO Milanthi Sarukkali, Amana Takaful Life CEO Gehan Rajapakse, Fairfirst Insurance Managing Director and CEO Dr. Sanjeev Jha and National Insurance Trust Board Chairman Manjula de Silva

Awards Winners
---
By Charumini de Silva

The annual flagship event of the CFA Society Sri Lanka, the Capital Market Awards 2019 and Forecast Dinner, was held for the seventh consecutive year last Friday.

This year's award ceremony recognised and rewarded 13 top performers in the country's capital market. The winners were recognised in five award categories, where Gold, Silver and Bronze trophies were given for Best Investor Relations, Best Stock Broker Research Team, Best Unit Trust Fund, Best Sector Research and Best Equity Research Report.

The prime objective of the awards is to recognise and provide personal growth opportunities to those professionals who have introduced industry benchmarks and spearheaded governance and ethics for the advancement of the local financial market.
National Insurance Trust Board Chairman Manjula de Silva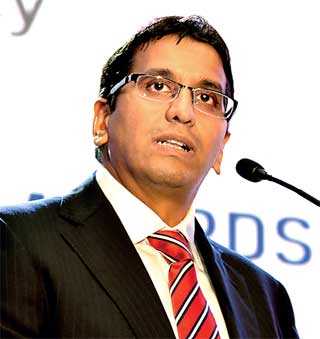 CFA Society Sri Lanka President Zaffar Jeevunjee


The Capital Market Awards is the only industry awards ceremony of its kind in Sri Lanka that inspires and incentivises capital market participants and broader stakeholder groups to strive for standards of excellence. CFA Society Sri Lanka also announced the winner of Forecast Quiz 2018.

Delivering the opening remarks of the award ceremony, CFA Society Sri Lanka President Zaffar Jeevunjee encouraged the participants to keep achieving higher standards of intellectual progress and professional integrity, which would lead to it achieving its mission of bringing market integrity to the ultimate benefit of society.

Commending the service of the Panel of Judges, he said they followed a unique and a rigorous process in selecting the winners covering three consecutive rounds.

"The judges for each award category are carefully handpicked and consist of both CFA Charter-holders and industry experts. Considerable time and effort is devoted by the judges to ensure fairness, independence and objectivity in selecting the winners. Each year we see improvements in both the popularity as well as the intensity of the competing applicants. We have seen an increase in submission of research reports including the doubling of the sector report submissions this year," Jeevunjee added.

Reiterating that CFA's primary goal was to improve standards within the industry, he opined that the simple process of applying for the awards each year would provide teams and firms the benchmark and the motivation to continuously improve these standards.

This year's keynote address was delivered by National Insurance Trust Fund (NITF) Chairman Manjula de Silva, where he focused on the potential of insurance sector to spur capital market growth.

He said insurance should be considered as a potential sector that Colombo Stock Exchange (CSE) must focus on to spur capital market growth.

Accounting treatment and regulatory framework, poor returns from stock market, lack of suitable instruments, lack of liquidity in secondary markets, making it hard to exit, conservative outlook of fund managers and attitudes of boards were outlined as key reasons for low insurance industry participation in the CSE.

In addition de Silva said low Income level, lack of awareness or understanding, lack of trust, mismatch with potential target markets, consumerism and dependence on State for compensation were key issues which hampered the growth of the industry.

"Building awareness and trust through sustained industry action, collaborate with other financial intermediaries to promote saving over spending (need for financial planning), greater attention to develop non-traditional distribution channels to reach out to target markets with high potential and partner with Government to piggyback on State-sponsored insurance schemes to improve the insurance industry size and penetration levels," he suggested. He also recommended to engage with accounting profession and regulators to look at how disincentives for long-term investment and deployment of funds into capital markets can be addressed, request Central Bank and Finance Ministry to ensure continuous supply of long-term risk-free instruments, facilitate introduction of new capital market instruments such as Real Estate Investment Trusts (REITs) as well as infrastructure bonds, absorb the services of international advisory firms to take advantage of overseas investment opportunities and educate Boards on importance of taking a long-term view on investments and risk/return trade-off to mitigate the low equity investments in the capital market.

The NITF Chairman emphasised that it would be a win-win for both insurance companies and the equity market if they wisely enhance its participation. "When considering all these factors, I would say it's not too late — let's start today," de Silva pointed out.

Following the keynote presentation, a panel discussion was held with the keynote speaker, Fairfirst Insurance Managing Director and CEO Dr. Sanjeev Jha and Amana Takaful Life Ltd. CEO Gehan Rajapakse, which was moderated by Spark Founder and CEO Milanthi Sarukkali.

The panel shared useful insights on the bottlenecks in the industry pertaining to low insurance penetration compared to regional countries, industry's potential for growth both as a sector as well as a contributor to capital market development and supportive regulatory direction and the need to introduce new capital market instruments to make best use of the untapped potential in the market.

Pix by Ruwan Walpola