From left: Overseas Reality (Ceylon) PLC Director/Group CEO Pravir Samarasinghe, EVP and Sector Head of John Keells Properties Nayana Mawilmada, Moderator Jayamini Pelpola and Ministry of Development Strategies and International Trade focussing on trade reforms,

competitiveness and innovation Advisor Anushka Wijesinghe
By Charumini de Silva

The annual flagship event of the CFA Society Sri Lanka, the Capital Market Awards, was held for the sixth consecutive year on Tuesday (26), with it recognising and rewarding 13 top performers in the country's capital market.

The fundamental objective of the awards is to recognise and provide personal growth opportunities to those professionals who have introduced industry benchmarks and spearheaded governance and ethics for the advancement of the local financial market.

The Capital Market Awards is the only industry awards ceremony of its kind in Sri Lanka that inspires and incentivises capital market participants and broader stakeholder groups to strive for standards of excellence.

This year the winners were recognised in five award categories, where Gold, Silver and Bronze trophies were given for Best Investor Relations, Best Stock Broker Research Team, Best Unit Trust Fund and Best Equity Research Report.

Since its inception in 2013, CFA Society Sri Lanka has introduced a new award category almost every year and this year's additional award was for the Best Sector Report.

Speaking of the award ceremony, CFA Society Sri Lanka President Rachini Rajapaksa encouraged the participants to keep attaining still higher standards of intellectual progress and professional integrity, which would lead to it achieving its mission of bringing market integrity to the ultimate benefit of society.



"We are proud that the CFA Sri Lanka Capital Market Awards is the only award ceremony that incentivises capital market participants and the stakeholder groups to strive for standards of excellence. The judges for each award category are carefully handpicked and consist of both CFA Charter-holders and industry experts. Considerable time and effort is devoted by the judges to ensure fairness, independence and objectivity in selecting the winners," she added.

With 145,000 members in 159 countries around the world, a record number of 227,000 CFA Program candidates sat for the CFA exams held recently. On a happy note, she said that this year over 440 candidates sat for the exam in Colombo, a 13% increase from the previous year. At present CFA Society Sri Lanka has 205 members and the mission of the CFA Institute is to lead the investment profession globally by promoting the highest standards of ethics, education and professional excellence for the ultimate benefit of society.

Rajapaksa said they would like to see improvements in the equity research reports to investors and quality of the disclosures in the annual reports, half yearly reports and factsheets in the unit trust industry.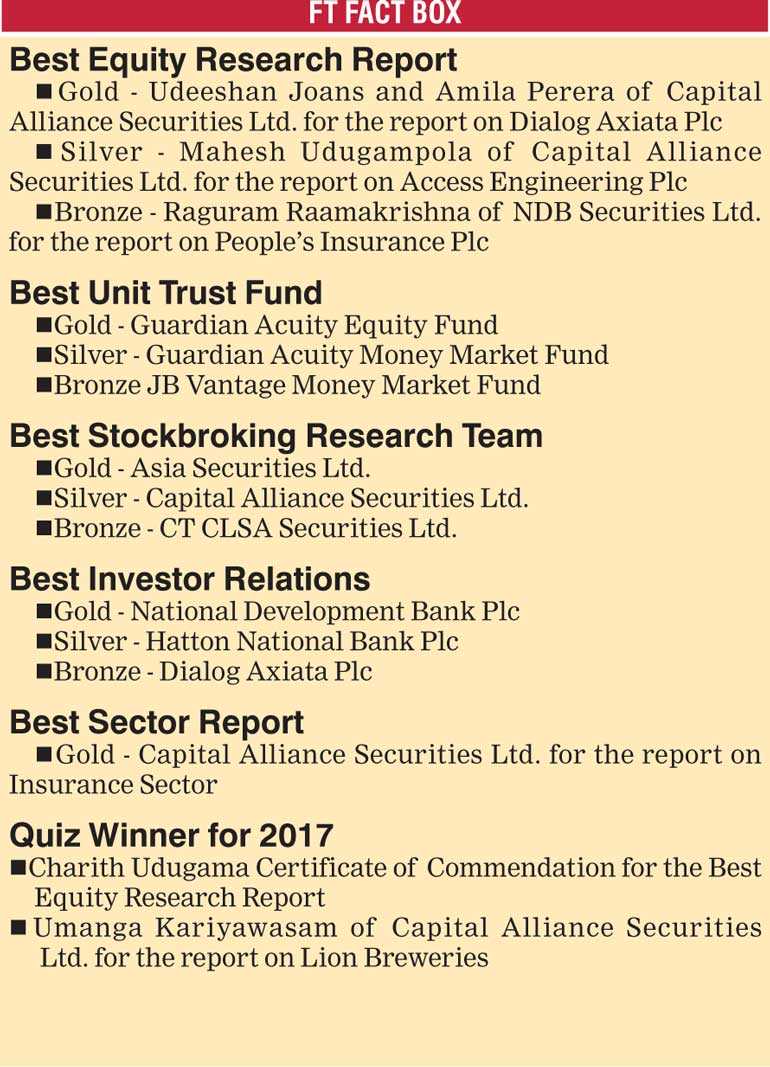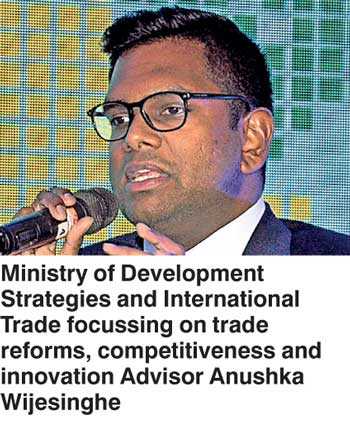 "I like to mention here just two improvements we would like to see in the industry. The first is on equity research reports to investors. The analyst writing a report is expected to have the skill and expertise over and above the general investors in the market and if you cannot provide a recommendation according to your belief, you are not doing any value addition to the investors with your knowledge. This current practice is not only detrimental to the market but I believe has dragged the industry standards a few steps back. Hence, I urge the CEOs of the stock brokering firms to immediately look into this aspect. Secondly, amongst the many shortcomings we saw in the unit trust industry were the quality of the disclosures in the annual reports, half yearly reports and factsheets. It was surprising to see some companies send merely a set of financial statements to the unit holders which is far from a standard annual report you in turn demand from the investee companies as fund managers. I urge the SEC also to look into this matter," she stressed.

This year's keynote address deeply engaged the audience present, with John Keells Holdings Sector Head Property Group Nayana Mawilmada speaking on 'Colombo 2.0: Boom or Bust?', where he focused on how the financial industry needed to come up with innovations to target interventions and look at capitalising on the opportunities in the real estate sector.

Noting that Colombo was evolving, he said that the shape it took would depend on four key factors which included where we live, how we live, how we get around and who can afford the city.

"The growth in Colombo 2.0 will be driven by the changes in how we get around with more sophisticated transport systems, where many have already been proposed in the Western Region Megapolis. There will be a significant increase in apartment living and we will also see shifts in who will be able to afford to live in the city," he pointed out.

Mawilmada highlighted limited options, difficult access to mortgage and prohibitive interest rates as some of the main constraints for homebuyers.

"Innovation is a must on residential product offering and housing finance, particularly for the first-time homebuyers. Finance innovation targeting first-time homebuyers need to address tenure mismatches in banks, tax breaks for mortgages and reduce barriers to allow access to finance," he emphasised.

Following the presentation, a panel discussion was held with the keynote speaker, Overseas Reality Plc Director and Group CEO Pravir Samarasinghe, and Development Strategies and International Trade Ministry Advisor Anushka Wijesinha which was moderated by MoneyWorkz Founding CEO Jayamin Pelpola. The panel shared useful insights on the rapid growth in the real estate sector, bottlenecks in the industry and the policy direction that will be introduced to make best use of the untapped potential in the market.

Pix by Sameera Wijesinghe