---
Local investment professionals demonstrate commitment to shaping a more trustworthy financial industry
CFA Society Sri Lanka (CFASL) the local member society of CFA Institute, the global association of investment professionals that sets the highest standards of ethics, education, and professional excellence, announced that 20 local investment professionals have earned the prestigious CFA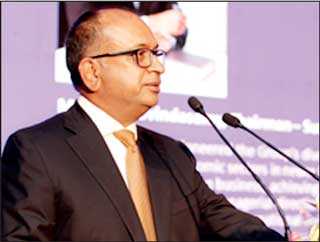 (Chartered Financial Analyst) designation and a further 17 CFA Program Level III passed finalists were recognised at the 2019 Charter Awards Ceremony and Annual Oration held at Ramada Colombo.

CFASL President Zaffar Jeevunjee, CFA while congratulating the new batch of charterholders and Level III passed finalists on their achievement, emphasised on the importance of cultivating a habit of lifelong learning, the need to build trust and integrity through their professional life and making their CFA membership count. He encouraged the award recipients to get involved in the CFA community by volunteering their time and effort for CFASL activities.

The Chief Guest and Orator for the event was Sunshine Holdings PLC Managing Director Vish Govindasamy, who delivered an inspiring story of his life experiences to motivate award recipients that with hard work and a strong belief in yourself that nothing is impossible. He encouraged the audience to not be afraid of change and to take risks to achieve their dreams.

Drawing from his experience as a corporate leader, he talked about the importance of networking and the importance of always innovating and embracing technological change. He also emphasised the importance of honesty and having a strong personal value system for emphasising throughout ones professional and personal life.