By Wealth Trust Securities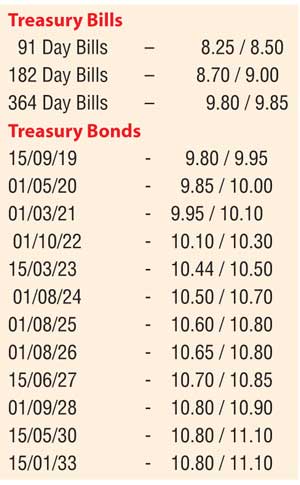 The Central Bank of Sri Lanka was seen decreasing its Standing Lending Facility Rate (SLFR) by 25 basis points at its second monetary policy announcement for the year 2018 held yesterday (4 April), signalling its first policy easing cycle since April 2015. The new Standing Deposit Facility Rate (SDFR) and Standing Lending Facility Rate (SLFR) will be at 7.25% and 8.50% respectively narrowing the corridor gap to 1.25% against 1.50%.

At the weekly Treasury bill auction held yesterday, the upward trend in weighted average yields continued for a second consecutive week as the 364 day maturity was seen increasing by 22 basis points to 9.91%. The total offered amount of 28 billion was accepted only on the 364 day maturity once again, rejecting all bids for the 91 day and 182 day maturities. The bids to offer ratio increased to a twelve week high of 3.26:1.

The activity in the secondary bond market increased as yields was seen decreasing across the board following the monetary policy announcement. Morning hours of trading saw buying interest on the liquid 15.05.23 and 01.09.28 maturities to intraday lows of 10.47% and 10.80% respectively against its previous day's closing levels of 10.62/68 and 11.00/03. However selling interest subsequent to auction results curtailed downward trend.

Furthermore, buying interest in March 2019 bills continued with it changing hands within the range of 9.60% to 9.75% in the secondary market.

The total secondary market Treasury bond/bill transacted volumes for 3 April was Rs.9.12 billion.

In money markets, the overnight call money and repo rates averaged at 8.23% and 8.30% respectively as the Open Market Operations (OMO) department of Central Bank was seen infusing an amount of R.12.86 billion by way of a two-day reverse repo auction at a weighted average of 8.07%. The net liquidity surplus increased to Rs.31.21 billion.


Rupee losses further

In the Forex market, the USD/LKR spot rate was seen losing further, to close the day at Rs.155.85/00 against its previous day's closing level of Rs.155.70/85 on the back of continued importer demand.

The total USD/LKR traded volume for 3 April was $ 96.80 million.

Some of the forward USD/LKR rates that prevailed in the market were 1 Month - 156.50/75; 3 Months - 158.10/20 and 6 Months - 160.35/45