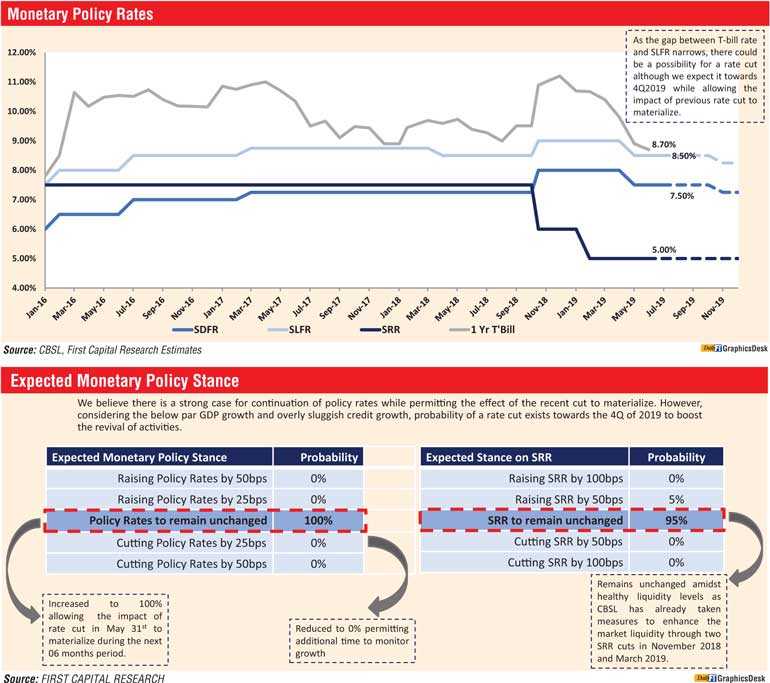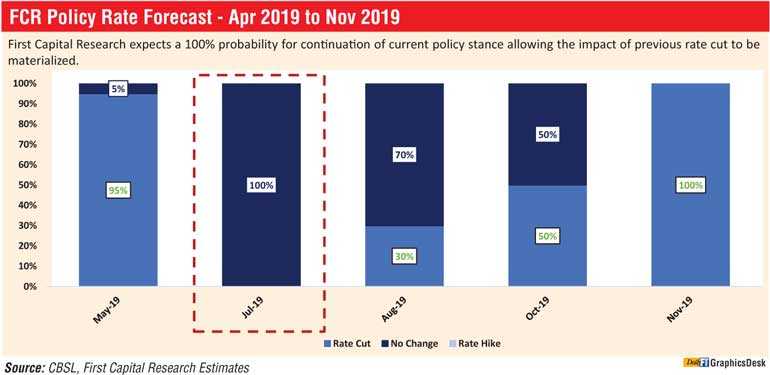 ---
CB likely to keep monetary policy unchanged to allow impact of previous rate cut to materialise
But effect could be delayed due to high NPLs
Further 25 bps rate cut possible in 4Q if growth fails to pick up
Macroeconomic fundamentals showing steady improvement
First Capital Research yesterday said the Monetary Board of the Central Bank (CBSL) is likely to keep policy rates unchanged when they meet this week to allow for the earlier rate reduction to take effect and filter through markets.

"Considering the fact that it is too early to assess the impact of the previous 50 bps rate cut, we believe that the Monetary Board would continue the policy rates with no change. We believe the Monetary Board may first consider CBSL's ability to implement lending rate caps before further policy rate cuts are implemented," the report from First Capital said.

"However, considering the slowness of the economy and the contraction of credit, we would not rule out a further 25 bps rate cut towards 4Q2019, if economic growth fails to accelerate," it added.

The CBSL cut rates by 50 basis points after the Easter Sunday attacks, given subpart growth seen earlier this year, to provide economic stimulus. Since then macroeconomic fundamentals have shown a steady improvement with Sri Lanka, maintaining an acceptable level of reserves and raising $ 2 billion from international capital markets.

"Following the bond issuance, we expect foreign reserves to show significant improvement reaching above $ 8 billion in June while maintaining above $ 7.5 billion during July to December. Cabinet approval was obtained to raise up to Rs. 480 billion for debt management through the Liability Management Act, which provides leeway for CBSL to raise further $ 2.5 billion as indicated to manage debt in 2020, which would be a year with multiple elections. Sri Lanka's next international sovereign repayment is only due in October 2020 amounting to $ 1 billion while 1Q and 2Q each constitute $ 400 million of SLDBs maturing. Raising funds well in advance for repayments is expected to significantly strengthen macroeconomic outlook for Sri Lanka and to reduce unnecessary volatility," First Capital Research said.

Impact of the previous rate cut may take time to materialise, the organisation said with the high Non-Performing Loans (NPLs) possibly delaying the dip in lending rates.

"However, in order to accelerate the reduction in lending rates, as previously indicated by the CBSL, we expect imposition of a cap on lending rates to enhance credit flows to the economy with the intention of boosting the economic and credit growth."

During the month of June, USD:LKR remained stable to close at 176.42 on 28 June supported by foreign inflows, exporter conversions and contraction in imports. However, REER (2017=100) continued to remain undervalued at 91.95 in May, First Capital research said with estimates for it to be 92.35 in June.

The external environment is favouring lower yields as the weakening US economy led the Fed to rethink its interest rate normalisation strategy resulting in Fed indicating a likely monetary easing in upcoming meetings. The situation has weakened the dollar further supporting the stability of the rupee, the report said.