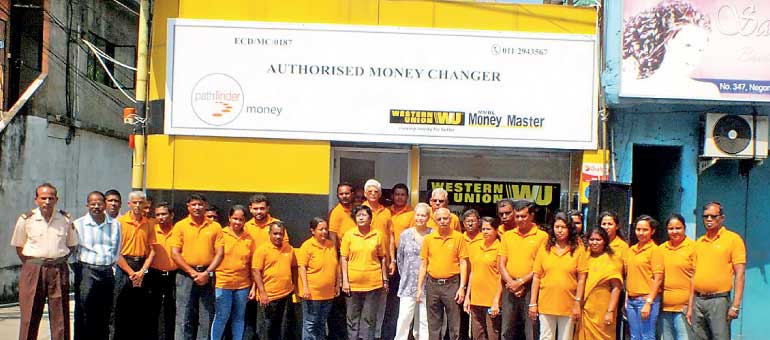 'Pathfinder – Money' currency changing service at Peliyagoda
MMBL-Pathfinder Group has launched 'Pathfinder – Money', a Central Bank approved money changing service to cater to the fast growing tourism industry in Sri Lanka. The initial pilot project for this venture was opened recently in the proximity of the MMBL-Pathfinder Headquarters at 'Riverpoint' on Negombo Road in Peliyagoda. Following on the pilot stage the 'Pathfinder – Money' network will be expanded in phases to important tourism centres in the country.

Another MMBL-Pathfinder group company, MMBL-Money Transfer (a joint venture with Aitken Spence PLC) is already the largest agent for Western Union Money Transfer in Sri Lanka. MMBL- Money transfer accounts for over $, 150 million in annual inward remittances to Sri Lanka and has nearly 3,000 agents throughout the island.

MMBL-Pathfinder Group President Neiliya Perera inaugurated the new project and the Group CEO K. Balasundaram, Pathfinder Foundation Chairman Bernard Goonetilleke, Pathfinder Agro Director Dharmin Perera, Director Administration Nandana Devage, K.D. Liyanage and Accountant M.F.M. Sbbry participated at the event.