Metropolitan Office Managing Director Ivor Maharoof hands over the platinum sponsorship cheque to the Clearing Association of Bankers President M. Razak Deen. Director of Sales and Marketing Ali Asgar Roshanali, DGM Finance Thilanka Warnakulasuriya, Head of Banking and Digital Classroom Solutions Wajira De Silva, and Secretary Janaka Jayawickrema, and Treasurer Rizana Ismail of Clearing Association of Bankers are also present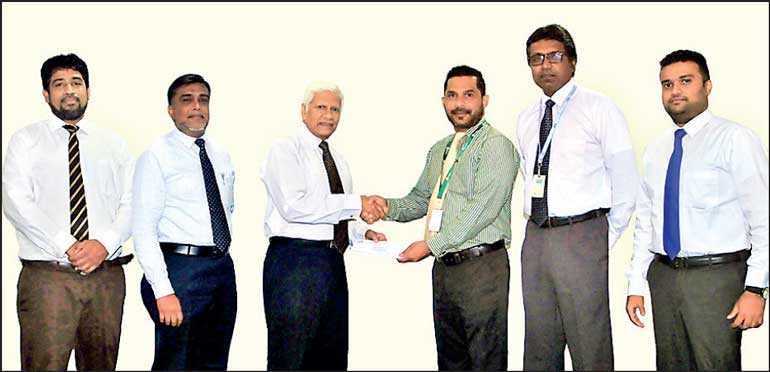 Transnational BPM Lanka Group Chairman Upali De Silva hands over the Gold sponsorship cheque to Clearing Association of Bankers President M. Razak Deen. Pronto Lanka General Manager Thaslim Saleem, Transnational BPM Lanka General Manager Thurab Hilmy, and Janak Palugaswewa and Asanka Theadore of the Clearing Association of Bankers are also present
Lanka Clear General Manager/CEO Channa De Silva hands over the Gold sponsorship cheque to Clearing Association of Bankers President M. Razak Deen, Head of External Services Nishamani Rathnayake, Asst. Manager of External Services Shamitha Atapattu, and Secretary Janaka Jayawickrema, and Treasurer Rizana Ismail of the Clearing Association of Bankers are also present
---
The 27th Annual Interbank Quiz Competition organised by the Clearing Association of Bankers (CAB) is to be held on 23 June from 2:30 p.m. onwards, at the Balmoral Hall, of the Kingsbury Hotel in Colombo.

The competition, which is open to all commercial, development and savings banks, and financial institutions, has already received an overwhelming response with over 30 teams including the defending champions, the HNB team and last year's runners-up, the People's Bank team.

The objectives of this annual event are to foster the rapport among the bankers, encourage interbank fellowship and impart knowledge on varied subjects such as current affairs, law relating to banking and finance, international trade, sports, entertainment, etc. As in the past years, the Quiz Master will be Ravi Molligoda.

One should also be keen to know how the Inter Bank Quiz will be worked out. Each team should comprise five members who will face the Quiz Master together and there will be five such rounds on the given subjects and each round will have 10 questions.

The platinum sponsor of the Quiz is Metropolitan Office Ltd. and Pronto Lanka Ltd./Transnational BPM Lanka Ltd. and Lanka Clear Ltd. have taken on the roles of Gold Sponsors.

The Clearing Association of Bankers (CAB) is an association formed by the staff of the cheque clearing departments of all commercial banks in Sri Lanka, the National Clearing House, Lanka Clear Ltd. and the Central Bank of Sri Lanka.

CAB was formed with the objective of enhancing the knowledge of bankers as well as to promote goodwill, understanding and fellowship among bankers engaged in clearing, and to acquire cutting edge technology in the world with regard to Clearing for member banks.

The association has been able to fulfil these objectives with many activities performed island-wide with a large participation.

CAB currently constitutes of more than 450 life members from the banking fraternity and the incumbent President is M. Razak Deen, from MCB Bank. The association has been striving hard to make the Quiz program popular and the most sought after annual event of the banking fraternity.