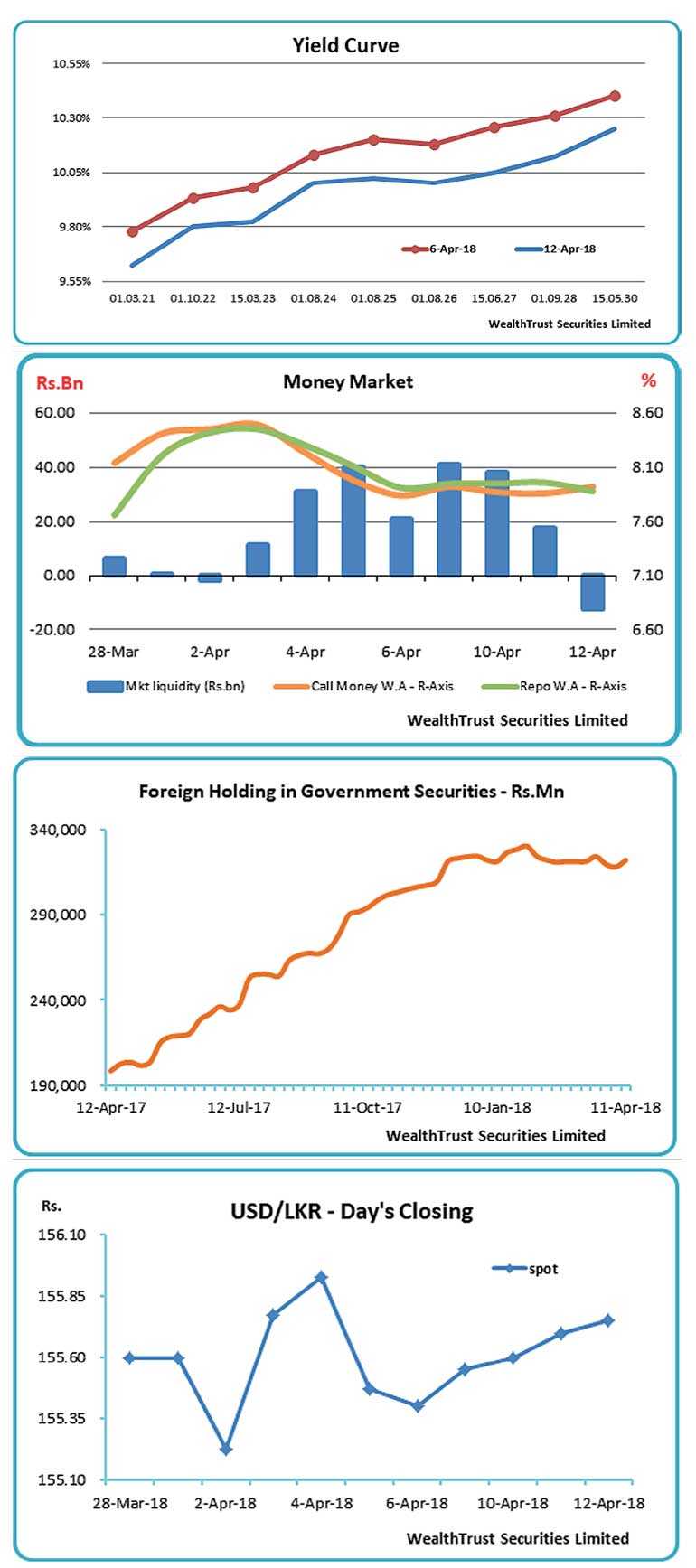 By Wealth Trust Securities

The Bull Run witnessed in the secondary bond market during the previous week continued, as yields declined further, reflecting a parallel shift downwards of the overall yield curve, with considerable buying pressure from both foreign and local investors.

This downward trend was supported by the decline in yields at the weekly bill auction, where the weighted average yield of the 364 day maturity dropped by 20 bps followed by the successful launch and pricing of a Sri Lankan dollar-denominated sovereign bond issue for $ 2.5 billion at 5.75% and 6.75% respectively for a period of five and ten years. In the meantime foreign buying too returned to the market with an inflow of Rs. 3.92 billion for the week ending 11 April, reversing outflows witnessed over the previous two weeks.

The largely traded maturities were the 15.03.23, 01.08.24 and 01.09.28, as their yields dipped to weekly lows of 9.75%, 9.95%, and 10.10% respectively, against highs of 10.07%, 10.20% and 10.35%. Furthermore, the 01.03.21, 01.08.26 and 15.05.30 maturities too were seen changing hands at lows of 9.61%, 9.95% and 10.25%. However, profit taking at these levels curtailed any further downward movement with the market closing marginally higher.

The daily secondary market Treasury bond/bill transacted volumes for the first three days of the week averaged Rs. 12.19 billion.

In money markets, the overnight call money and repo rates decreased to average 7.89% and 7.94% respectively, as the average surplus liquidity in the system increased to Rs. 21.21 billion. In the meantime, the Open Market Operations (OMO) Department of the Central Bank of Sri Lanka continued to infuse liquidity by way of reverse repo auctions at weighted average yields of 8.15% and 8.16% respectively for periods of 6 and 7 days.

Rupee losses during the week

The rupee closed the week lower at Rs. 155.70/80, against its previous weeks closing level of Rs. 155.35/45 on the back of importer demand.

The daily USD/LKR average traded volume for the first three days of the week stood at $ 93.57 million.

Some of the forward dollar rates that prevailed in the market were: 1 Month - 156.32/42; 3 Months - 157.90/00 and 6 Months - 160.20/35.
---
The secondary market yields for the most frequently traded maturities.

Treasury Bills

91 Day Bills –8.25 / 8.50

182 Day Bills –8.60 / 8.90

364 Day Bills –9.45 / 9.55

Treasury Bonds

15/09/19 - 9.50 / 9.60

01/05/20 - 9.55 / 9.65

01/03/21 - 9.60 / 9.65

01/10/22 - 9.75 / 9.85

15/03/23 - 9.80 / 9.85

01/08/24 - 9.95 / 10.05

01/08/25 - 9.95 / 10.10

01/08/26 - 9.95 / 10.05

15/06/27 - 10.00 / 10.10

01/09/28 - 10.10 / 10.15

15/05/30 - 10.20 / 10.30

15/01/33 - 10.20 / 10.40