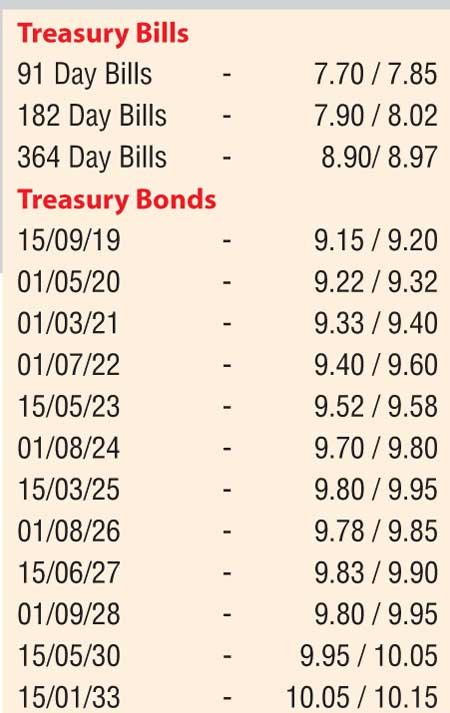 By Wealth Trust Securities

The secondary market bonds were seen trading within a narrow range yesterday for a second consecutive day as activity dried up considerably towards the latter part of the day.

Limited trades were witnessed on the maturities of two 2018s (i.e. 01.04.18 and 01.06.18), 01.07.19, three 2021s (i.e. 01.03.21, 01.05.21 and 01.08.21), 15.05.23 and 01.08.26 at levels of 7.84%, 8.00% to 8.05%, 9.15% to 9.18%, 9.35% to 9.40%, 9.50%, 9.45% to 9.49%, 9.54% to 9.60% and 9.80% to 9.81% respectively.

The total secondary market Treasury bond/bill transacted volumes for 7 February 2018 was Rs. 6.99 billion.

In money markets, the overnight call money and repo rates averaged 8.15% and 7.64% respectively as the net liquidity surplus stood at Rs. 6.24 billion yesterday. The Open Market Operations (OMO) Department of the Central Bank of Sri Lanka drained out an amount of Rs. 3 billion by way of a term repo auction at a weighted average of 7.51% for a period of 14 days.
Rupee appreciates further
The USD/LKR rate on spot contracts appreciated further yesterday to close the day at levels of Rs. 154.30/40 against its previous day's closing levels of Rs. 154.50/60 on the back of continued selling interest by banks.

The total USD/LKR traded volume for 7 February 2018 was $ 138.05 million. Some of the forward USD/LKR rates that prevailed in the market were one month - 155.05/15; three months - 156.75/85 and six months - 159.20/35.
Rupee ends firmer on exporter dollar sales
Reuters: The rupee ended firmer for a second straight session on Thursday, further recovering from a record closing low hit earlier this week, as some exporters sold dollars, dealers said.

The rupee hit an all-time closing low of 154.60/70 per dollar on Tuesday, hurt by dollar demand from banks and importers.

The spot rupee ended at 154.35/45 per dollar on Thursday with compared with Wednesday's close of 154.55/65. "Today, there was selling (of dollars) by exporters and some banks as the rupee was near a record low," said a currency dealer. Dealers said they expect the currency to be under pressure due to continued importer dollar demand.

They expect a 2-3% depreciation in the rupee and higher volatility this year on account of debt repayment by the government.

President Maithripala Sirisena's administration must repay an estimated Rs. 1.97 trillion ($ 12.85 billion) in 2018 - a record high - including $ 2.9 billion of foreign loans and a total of $ 5.36 billion in interest.

Foreign investors bought Rs. 5.9 billion worth of government securities this year up to 30 January, Central Bank data showed.

The rupee fell 2.5% last year and 3.9% in 2016.