Weighted average yield of the 364-day bill up by 13 basis points
Foreign holding in rupee bonds decrease further
By Wealth Trust Securities

The upward movement in secondary market bond yields continued during the week ending 14 February as well, as Cabinet approved the amendment to the Vote on Account for 2020, seeking additional budgetary provisions of Rs.367 billion.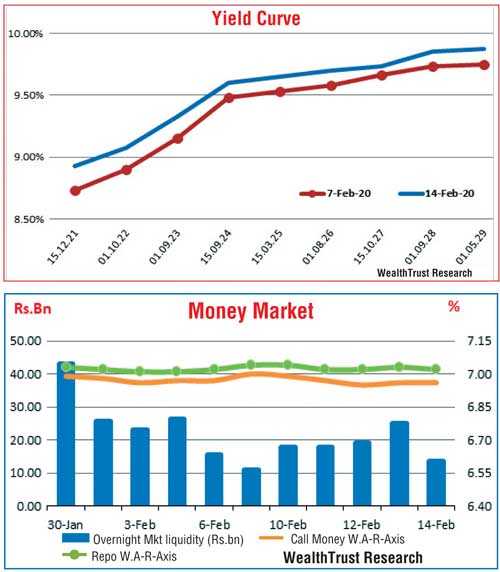 The rise in yields was also supported by the drop in average net overnight liquidity to Rs.18.68 billion for the week ending 14 February in comparison to its previous week's figure of Rs.19.18 billion while the overall money market liquidity continued to be in the negative as well. Furthermore, the weighted average yield of the market favourite 364 day bill increased by 13 basis points to 8.55% at the weekly Treasury bill auction.

In the secondary bond market, yields on the liquid maturities consisting of the 15.12.21, 15.07.23, two 2024s (i.e. 15.06.24 and 15.09.24) and 15.10.27 increased to weekly highs of 8.96%, 9.30%, 9.60%, 9.65% and 9.75% respectively, surpassing its levels that prevailed prior to the policy rate cut on 29 January 2020 and in comparison to its previous weeks closing levels of 8.60/85, 9.12/20, 9.45/50 each and 9.63/68. Meanwhile, the foreign holding in Rupee bonds continued to decrease, recording an outflow of Rs.2.93 billion during the week ending 12 February.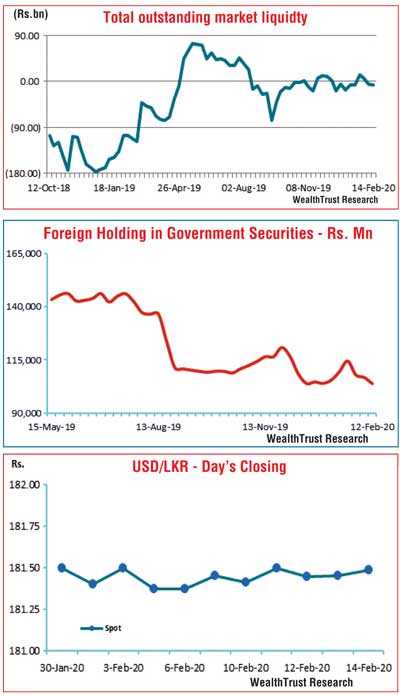 The daily secondary market Treasury bond/bill transacted volumes for the first four days of the week averaged at Rs.8.57 billion.

In money markets, the Overnight call money and repo rates averaged at 6.97% and 7.03% respectively during the week while the Domestic Operations Department (DOD) of the Central Bank of Sri Lanka drained out liquidity on Thursday by way of an overnight Repo auction at a weighted average rate of 6.97%. The overall money market liquidity decreased to a net deficit of Rs.6.35 billion for the week in comparison to its previous week deficit of Rs.5.47 billion.
Rupee fluctuates within a steady range

In the Forex market, the USD/LKR rate on spot contracts changed hands within the range of Rs.181.39 to Rs.181.52 during the week before closing at Rs.181.45/52 when compared against its previous weeks closing level of Rs.181.40/50.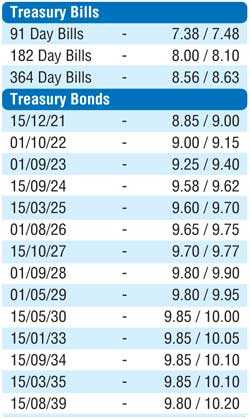 The daily USD/LKR average traded volume during the first four days of the week stood at $ 73.17 million.

Some of the forward dollar rates that prevailed in the market were one month – 181.95/15; three months – 182.95/10 and six months – 184.50/80.

(References: Central Bank of Sri Lanka, Bloomberg E-Bond trading platform, money broking companies)