---
Weekly weighted averages free-fall
Bids to offer ratio increases to 3 year high
Money market liquidity increases to over 16 year high
By Wealth Trust Securities

The Monetary Board of the Central Bank of Sri Lanka at its meeting held on 16 June decided to reduce its SRR (Statutory Reserve Requirement) rate applicable for all Rupee deposit in Licensed Commercial Banks by 200 basis points. This was expected to inject around Rs. 115 billion of additional liquidity to the domestic money market.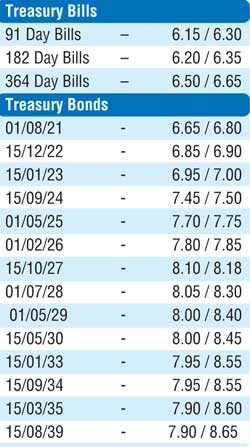 This intern saw the weekly weighted averages continuing its positive ride, recording steep falls across all three maturities at its auction held yesterday. The market favourite 364 day bill maturity recorded a dip of 30 basis points 6.62% while the shorter durations of 91 day and 182 day bills registered drops of 37 and 48 basis points respectively to 6.30% each. The total offered amount of Rs.23 billion was successfully accepted at the auction as its bids to offer ratio increased to a 3 year high of 5.82:1.

Considerable buying interest across the yield curve in the secondary bond market saw its yields record a steep drop yesterday on the back of substantial activity.

Yields of 15.12.22, 15.01.23, 2024s (i.e. 15.03.24, 15.06.24 & 15.09.24), 01.05.25, 01.02.26 and 15.10.27 maturities declined to intraday lows of 6.90%, 6.97%, 7.52%, 7.50% each, 7.75%, 7.85% and 8.17% respectively against its previous day's closing levels of 7.52/57, 7.62/65, 8.00/10, 8.13/18, 8.15/19, 8.35/38, 8.45/50 and 8.71/75. In addition, maturities of 2021s (i.e. 01.05.21 & 01.08.21), 01.10.22, 2023s (i.e. 15.03.23, 15.07.23 & 01.09.23), 01.01.24, 01.08.25, 01.08.26 and 15.06.27 changed hands at levels of 6.75% to 6.80%, 6.90% to 7.10%, 7.20% to 7.40%, 7.45%, 7.94%, 7.95% to 7.96% and 8.30% to 8.35% respectively.

The total secondary market Treasury bond/bill transacted volume for 16 June was Rs. 16.21 billion.

In money markets, following the SRR cut, the overnight net liquidity surplus in the system increased to Rs. 221.78 billion yesterday against its previous day of Rs. 80.02 billion. The weighted average rates on the overnight call money and repo rates were recorded at 5.75% and 5.81% respectively.
Rupee deprecates
In Forex markets, USD/LKR on spot contracts depreciated further yesterday to close the day at Rs. 186.45/65 against its previous day's closing levels of Rs. 186.00/30 on the back of continued buying interest by banks.

The total USD/LKR traded volume for 16 June was $ 98.96 million.