By Wealth Trust Securities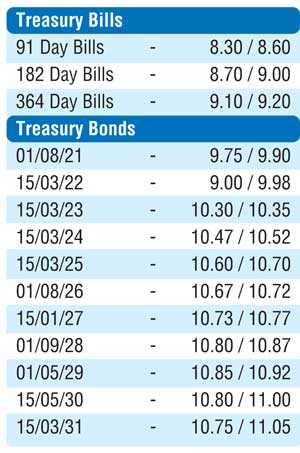 Activity in the secondary bond market moderated somewhat yesterday with yields closing the day marginally up, subsequent to dealing within a narrow range during the day.

The liquid maturities of two 2021s (01.08.21 & 15.12.21), 15.03.22, 15.03.23, 15.03.24, two 2026s (01.06.26 & 01.08.26), two 2027s (15.01.27 & 15.06.27), 01.09.28 and 01.05.29 were seen changing hands at levels of 9.75%, 9.80%, 9.90% to 9.95%, 10.25% to 10.30%, 10.38% to 10.50%, 10.65% to 10.73%, 10.70% to 10.78%, 10.84% to 10.85% and 10.86% to 10.90% respectively.

The total secondary market Treasury bond/bill transacted volumes for 10 May was Rs. 18.05 billion.

In money markets, the overnight call money and repo rates averaged 8.39% and 8.51% respectively as the Open Market Operations (OMO) Department of the Central Bank was seen draining out an amount of Rs. 9.64 billion on two-day basis by way repo auction at a weighted average of 8.54%. Furthermore, the OMO department drained out amounts of Rs.15 billion and Rs.4 billion on a four day and eight day basis respectively at weighted averages of 8.52% and 8.58% as the net surplus liquidity in the system stood at Rs. 26.53 billion yesterday.


Rupee loses marginally

The USD/LKR rate on spot contracts depreciated marginally once again to close the day at levels of Rs. 176.50/65 against its previous day's closing levels of Rs. 176.30/40 on the back of buying interest by banks.

The total USD/LKR traded volume for 10 May was $93.08 million

Some of the forward USD/LKR rates that prevailed in the market were one month - 177.45/65; three months - 177.20/40 and six months - 181.95/25.