By Wealth Trust Securities
---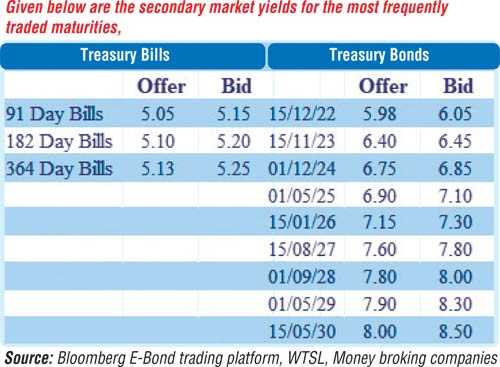 The secondary bond market yields were seen increasing further yesterday following the monetary policy announcement at where the Central Bank of Sri Lanka was seen holding its policy rates on its Standing Deposit Facility Rate (SDFR) and Standing Lending Facility Rate (SLFR) steady at 4.50% and 5.50% respectively for a sixth consecutive meeting.

Yields on the liquid maturities of 2022's (i.e. 01.10.22 and 15.12.22), 2023's (i.e. 15.05.23 and 15.11.23), 2024's (i.e. 15.09.24 and 01.12.24) and 15.01.26 were seen hitting highs of 5.90%, 6.05%, 6.31%, 6.40%, 6.68%, 6.80% and 7.20% respectively, while maturities of 2027's (i.e. 15.01.27, 15.08.27 and 15.10.27) and 01.05.29 were seen changing hands at levels of 7.80% to 7.825% and 7.90% respectively. In the secondary bill market, 9 July and 8 October maturities traded at levels of 5.07% and 5.12% respectively.

Today's auction will have on offer a total amount of Rs. 40 billion, consisting of Rs. 25 billion of 01.09.2023 and Rs. 15 billion of 01.07.2028. The maximum yields rate for acceptance for the said maturities was published at 6.30% and 7.70% respectively. The weighted average yields at the bond auctions conducted on 29 March were 6.30%, 7.05% and 7.58% for the maturities of 15.11.2023, 15.01.2026 and 01.05.2028 respectively.

The total secondary market Treasury bond/bill transacted volume for 7 April was Rs. 12.62 billion.

In money markets, the net liquidity surplus stood at Rs. 111.36 billion yesterday with an amount Rs. 140.67 billion been deposited at Central Banks SDFR of 4.50% against an amount of Rs. 29.31 billion withdrawn from its SLFR of 5.50%. The weighted average rates on call money and repo remained mostly unchanged at 4.65% and 4.66% respectively.
USD/LKR
In the Forex market, the USD/LKR rate on the more active one-week forward contracts were seen closing the day at levels of Rs. 201.00/202.50 yesterday against its previous day's closing level of Rs. 201.50/202.50. The total USD/LKR traded volume for 7 April was $ 65.54 million.

(References: Central Bank of Sri Lanka, Bloomberg E-Bond trading platform, Money broking companies)