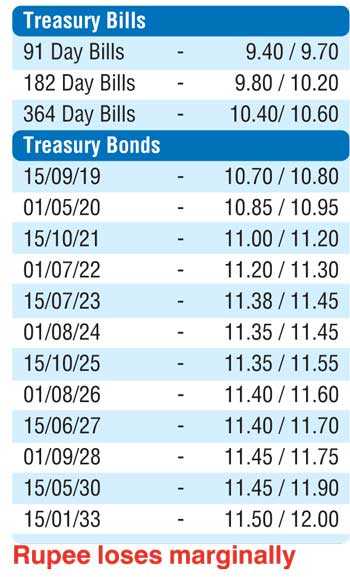 By Wealth Trust Securities

The secondary bond market yields fluctuated once again yesterday as yields were seen decreasing during morning hours of trading before bouncing back mid-day while activity faded off towards the latter part of the day. Yields on the 01.03.21 and the two 2023 (i.e. 15.03.23 and 15.07.23) maturities dipped to intraday lows of 11.00% and 11.30% each, respectively, against its previous day's closing levels of 10.95/05, 11.35/45 and 11.35/45 each. However, selling interest at these levels saw yields increase once again, mainly on the 15.07.23 maturity to 11.40% while two way quotes widened on the rest of the curve. In addition, the maturities of 15.09.19 and 15.05.23 were traded at levels of 10.75% and 11.40%, respectively, as well.

In the money market, overnight call money rate remained mostly unchanged to average 8.46% as the OMO Department of Central Bank was seen infusing liquidity by way of an overnight and a seven day term repo auction for successful amounts of Rs. 23.20 billion and Rs. 21 billion respectively at weighted averages of 8.47% and 8.48%. In addition, an amount of Rs. 4 billion was injected for 14 days at a weighted average rate of 8.48%, valued today as the net liquidity shortage in the system increased to Rs. 74.57 billion yesterday.

The rupee rate on spot contracts were seen closing marginally lower yesterday at Rs. 174.45/55 against its previous day's closing level of Rs. 174.20/50 on the back of buying interest by banks and foreign outflow in capital markets.

The total USD/LKR traded volume for 2 November was $ 66.05 million.

Some of the forward USD/LKR rates that prevailed in the market were 1 month – 175.40/70, 3 months – 177.35/75 and 6 months – 180.30/70.