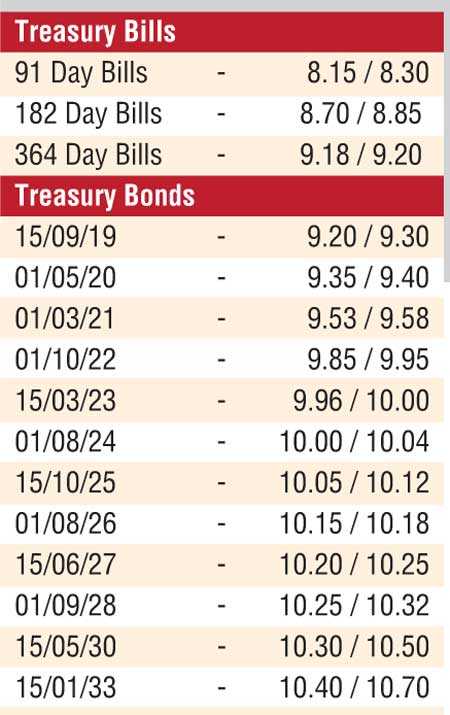 By Wealth Trust Securities
The secondary bond market rally continued as yields decreased once again yesterday, recording its fourth consecutive day of dips on the back of continued buying interest.
Yields on the liquid maturities of the two 2021s (i.e. 01.03.21 and 01.05.21), 15.03.23, 01.08.24 and 15.10.25 were seen decreasing to intraday lows of 9.55%, 9.60%, 9.95%, 10.00% and 10.12% respectively while the two 2019s (i.e. 01.07.19 and 15.09.19), 01.05.20, 01.08.21, 01.08.26 and 15.06.27 maturities were also traded at levels of 9.15% to 9.30%, 9.45%, 9.62% to 9.65%, 10.15% to 10.17% and 10.25% to 10.28% respectively.
In the secondary bill market, February, June and August 2019 maturities were traded at levels of 8.75%, 9.13% and 9.18% respectively.
This was ahead of today's monetary policy announcement, the fourth for 2018, due at 7.30 a.m. The Central Bank of Sri Lanka kept policy rates unchanged at its announcement on 6 July 2018. The total secondary market Treasury bond/bill transacted volumes for 1 August 2018 was Rs. 17.06 billion.
Given below are the closing, secondary market yields of the most frequently traded T-bills and bonds. In money markets, the overnight call money and repo rates decreased to average 8.34% and 8.26% respectively as the net surplus liquidity stood at a high of Rs. 37.03 billion yesterday.
Rupee losses marginally
The rupee rate on its spot contract was seen depreciating marginally yesterday to close the day at Rs. 159.70/85 against its previous day's closing level of Rs.159.55/65 on the back of moderate importer demand. The total USD/LKR traded volume for 1 August 2018 was $ 94.75 million.
Given below are some forward USD/LKR rates that prevailed in the market.
1Month - 160.50/70
3 Months - 162.05/35
6 Months - 164.55/85