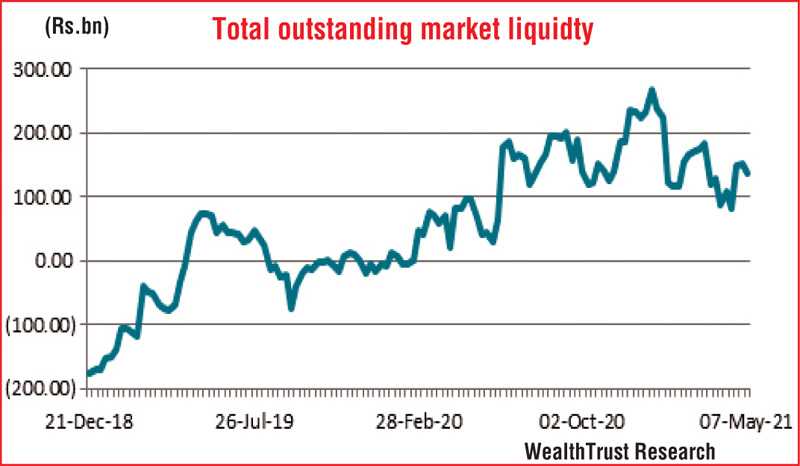 ---
Weekly auction demand increases; bond activity increases
Foreign holding in Rupee bonds reduces
Money market liquidity dips
---
By Wealth Trust Securities
---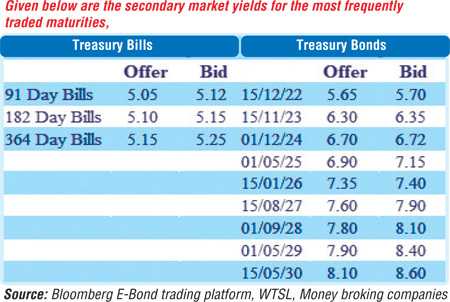 The secondary bond market sentiment turned positive during the week ending 7 May, reversing its bearish sentiment witnessed over the previous week, driven by persistent and continuous buying interest mainly on the very short end of the yield curve. The bullish sentiment was supported by the outcome of the weekly Treasury bill auction, where the total subscription increased to 77.58% while the 364-day bill cut-off rate stood steady at 5.18% for a third consecutive week.

Yields of the most sorted maturities of 2022's (i.e. 01.10.22, 15.11.22 and 15.12.22) and 2023's (i.e. 15.07.23, 01.09.23 and 15.11.23) hit weekly lows of 5.65%, 5.67%, 5.73%, 6.20%, 6.22% and 6.32%, respectively, against its previous weeks closing levels of 5.90/00, 5.95/03 each, 6.45/55, 6.45/60 and 6.52/60.

In addition, maturities of 01.12.24, 01.05.25, early 2026's (i.e. 15.01.26 and 01.02.26) and 01.08.26 changed hands at the levels of 6.70% to 6.80%, 7.05%, 7.32% to 7.38% and 7.60% to 7.75%, respectively, as well, which led to a downward shift of the yield curve, week on week.

The foreign holding in Rupee bonds recorded a decrease of Rs. 730.3 million for the week ending 5 May 2021 while the daily secondary market Treasury bond/bill transacted volumes for the first four trading days of the week averaged Rs. 13.73 billion.

In money markets, the total outstanding liquidity surplus decreased to Rs. 135.17 billion against its previous week's Rs. 151.31 billion while the CBSL's holding of Government securities, too, decreased to Rs. 870.37 billion against its previous week's Rs. 888.70 billion. The weighted average rates on overnight call money and repo remained mostly unchanged to average 4.66% and 4.69%, respectively, for the week.


USD/LKR

In the forex market, USD/LKR rate on spot contracts traded at levels of Rs. 199.85 to Rs. 200.99 during the week while one-month forward contracts saw buying interest at Rs. 199 towards the latter part of the week.

The daily USD/LKR average traded volume for the first four days of the week stood at $ 36.01 million.

(References: Central Bank of Sri Lanka, Bloomberg E-Bond trading platform, money broking companies)