By Wealth Trust Securities
---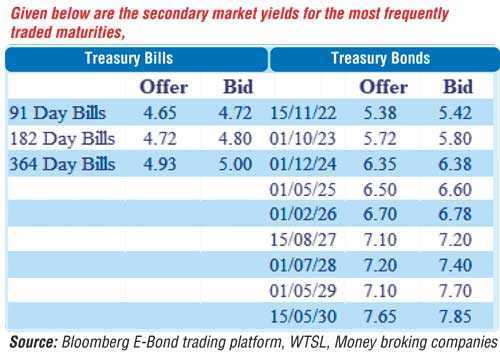 The secondary bond market remained rather dull yesterday, with limited amount of trades seen on the 2022's (i.e. 15.11.22 and 15.12.22) and 15.12.23 maturities at levels of 5.41% to 5.42% and 5.84% to 5.85% respectively. In the secondary bill market, February and June 2021 maturities changed hands at levels of 4.58% and 4.75% respectively.

Today's bill auction will have on offer Rs. 40 billion, consisting of Rs. 8 billion on the 91-day, Rs. 4 billion on the 182-day and a further Rs. 28 billion on the 364-day maturities. The stipulated cut-off rate for the 182-day and 364-day maturities were increased by three basis points each to 4.80% and 5.02% respectively, with the 91-day cut-off rate being increased by one basis point to 4.71%.

The total secondary market Treasury bond/bill transacted volumes for 29 January was Rs. 2.45 billion.

In the money market, overnight call money and repos averaged 4.54% and 4.55% respectively, with the surplus liquidity standing at Rs. 120.53 billion.


Rupee depreciates

In the Forex market, the USD/LKR rate on spot contracts depreciated to close the day at Rs. 193.00/194.00 in comparison to with the previous day's closing levels of Rs. 191.00/192.00.

The total USD/LKR traded volume for 29 January was $ 61.10 million.
(References: Central Bank of Sri Lanka, Bloomberg E-Bond trading platform, Money broking companies)