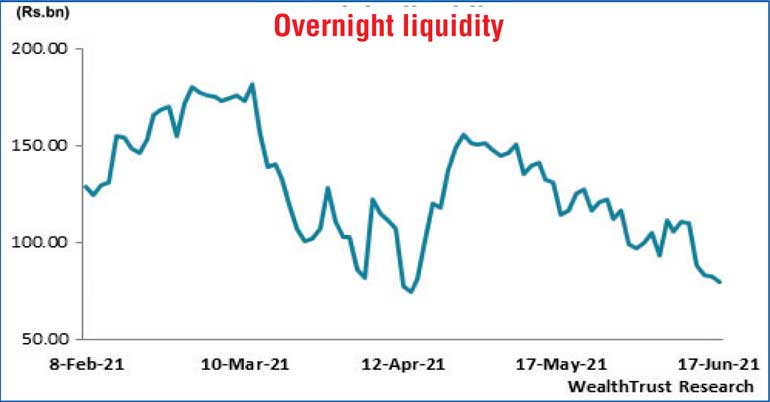 ---
Money market liquidity dips further
---
By Wealth Trust Securities
---
The secondary bond market was at a standstill yesterday, with most market participants opting to be on the side-lines. In very limited trades, the 15.01.23 maturity was seen changing hands at 5.79% while a one and a half month bond maturity of 01.08.21 changed hands at 5.05%.

The total secondary market Treasury bond/bill transacted volume for 16 June was Rs. 18.92 billion.

In money markets, the overnight net liquidity surplus was seen decreasing below Rs. 80 billion for the first time since 16 April to record Rs. 79.80 billion yesterday as an amount of Rs. 39.23 billion was withdrawn from CBSL SLFR of 5.50%, its highest volume since 5 April.

This in turn saw weighted average rates on overnight call money and repo edge up further to 4.84% and 4.87% respectively. An amount of Rs. 119.04 billion was deposited at Central Banks SDFR of 4.50%.
USD/LKR
The Forex market continued to remain inactive yesterday.

The total USD/LKR traded volume for 16 June was $ 83.35 million.

(References: Central Bank of Sri Lanka, Bloomberg E-Bond trading platform, Money broking companies)