By Wealth Trust Securities
---
The fresh trading week commenced on a lethargic note as activity in the secondary bond market was at a complete standstill yesterday. A trade on the 15.09.24 maturity was seen at 6.32% while in the secondary bill market, 8 January 2021 changed hands at 4.70%.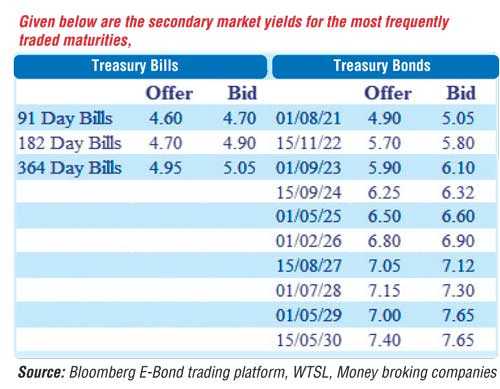 The total secondary market Treasury bond/bill transacted volumes for 2 October was Rs. 7.73 billion.

In the money market, the weighted average rates of overnight call money and Repos were recorded at 4.53% and 4.63% respectively yesterday as the DOD (Domestic Operations Department) of Central Bank injected an amount of Rs. 11.5 billion by way of a seven day reverse repo auction at a weighted average rate of 4.54%, subsequent to offering Rs. 15 billion. The overnight net liquidity surplus decreased marginally to Rs. 136.45 billion.


LKR loses marginally
In the Forex market, USD/LKR rate on spot contracts was seen depreciating marginally yesterday to close the day at Rs. 184.60/80 against its previous day's closing level of Rs. 184.50/60 on the back of buying interest by banks.

The total USD/LKR traded volume for 2 October was $ 128.57 million.

(References: Central Bank of Sri Lanka, Bloomberg E-Bond trading platform, Money broking companies)