Phase III of T-bond auction system opens
By Wealth Trust Securities

The two Treasury bond auctions conducted yesterday was seen recording weighted averages marginally above or marginally tailing its secondary market levels leading to the auctions. The Rs. 70 billion on the five-year maturity of 15.09.2024 which was fully subscribed to at its phase I, recorded a weighted average of 10.27% against its pre-auction level of 10.15/20 for a parallel maturity.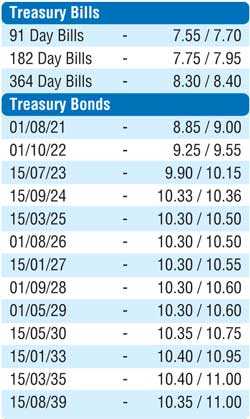 However, the Rs. 45 billion on the 15-year maturity of 15.09.2034 was unsuccessfully subscribed at its phase I, leading to its phase II and eventually to its mandatory phase III. This recorded a weighted average of 10.59%. The bid to offer ratio stood at 1.61:1.

Activity in the secondary bond market picked up, mainly after the auction results as the auctioned five-year maturity of 15.09.24 was seen changing hands within a thin range of 10.34% to 10.35%. In addition, the maturities of 2021's (i.e. 01.05.21 and 15.12.21) and 15.03.24 were traded at levels of 8.76% to 8.90%, 8.96% to 9.25% and 10.20% to 10.27% respectively, pre-auction.

The total secondary market Treasury bond/bill transacted volumes for 10 September was Rs. 5.44 billion.

In money markets yesterday, the overnight call money and repo rates averaged 7.42% and 7.50% respectively as the Open Market Operations (OMO) Department of the Central Bank of Sri Lanka was seen injecting amounts of Rs. 10 billion and Rs. 4.75 billion respectively on an overnight basis and seven-day basis by way of Reverse Repo auctions at weighted average rates of 7.42% and 7.43% respectively.

It further injected an amount of Rs. 1.5 billion for Standalone Primary Dealers by way of an overnight reverse repo auction at a weighted average rate of 7.50% while an amount of Rs. 4.50 billion was injected by way of a 14-day term reverse repo auction at a weighted average rate of 7.46%, valued today.
Rupee remains mostly unchanged

In Forex markets, the interbank USD/LKR rate on spot contracts were seen closing the day mostly unchanged at Rs. 180.30/40 on back of an equilibrium market against its previous day of Rs. 180.35/45

The total USD/LKR traded volume for 10 September was $ 119.10 million.

Some of the forward USD/LKR rates that prevailed in the market were 1 month – 180.75/00; 3 months – 181.65/95 and 6 months – 183.35/65.