---
By Wealth Trust Securities
---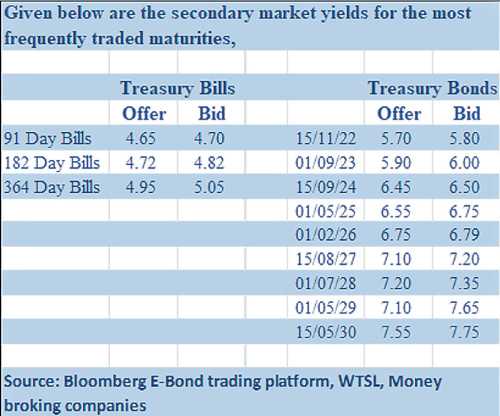 The secondary bond market was at a complete standstill yesterday as only the 15.01.23, 15.03.23 and 15.10.27 maturities changed hands at levels of 5.82% to 5.84%, 5.84% to 5.86% and 7.20% to 7.215% respectively on the back of minute volumes.

The very short end of the yield curve saw February and May 2021 Treasury bills traded at 4.65% and 4.76% respectively while October and December 2021 bonds were traded within the range of 5.06% to 5.10%.

The total secondary market Treasury bond/bill transacted volumes for 2 December 2020 was Rs.30.98 billion.

The overnight call money and Repo rates remained steady to average 4.54% and 4.59% respectively yesterday while the overnight surplus liquidity stood at Rs.233.61 billion.


Rupee appreciates

The Forex market saw the USD/LKR rate on spot next contracts appreciate yesterday to close the day at Rs.186.00/30 in the absence of spot contracts and in comparison to its previous day's closing of Rs.186.60/00.

The total USD/LKR traded volume for 2 December was $ 41.86 million.

(References: Central Bank of Sri Lanka, Bloomberg E-Bond trading platform, money broking companies)