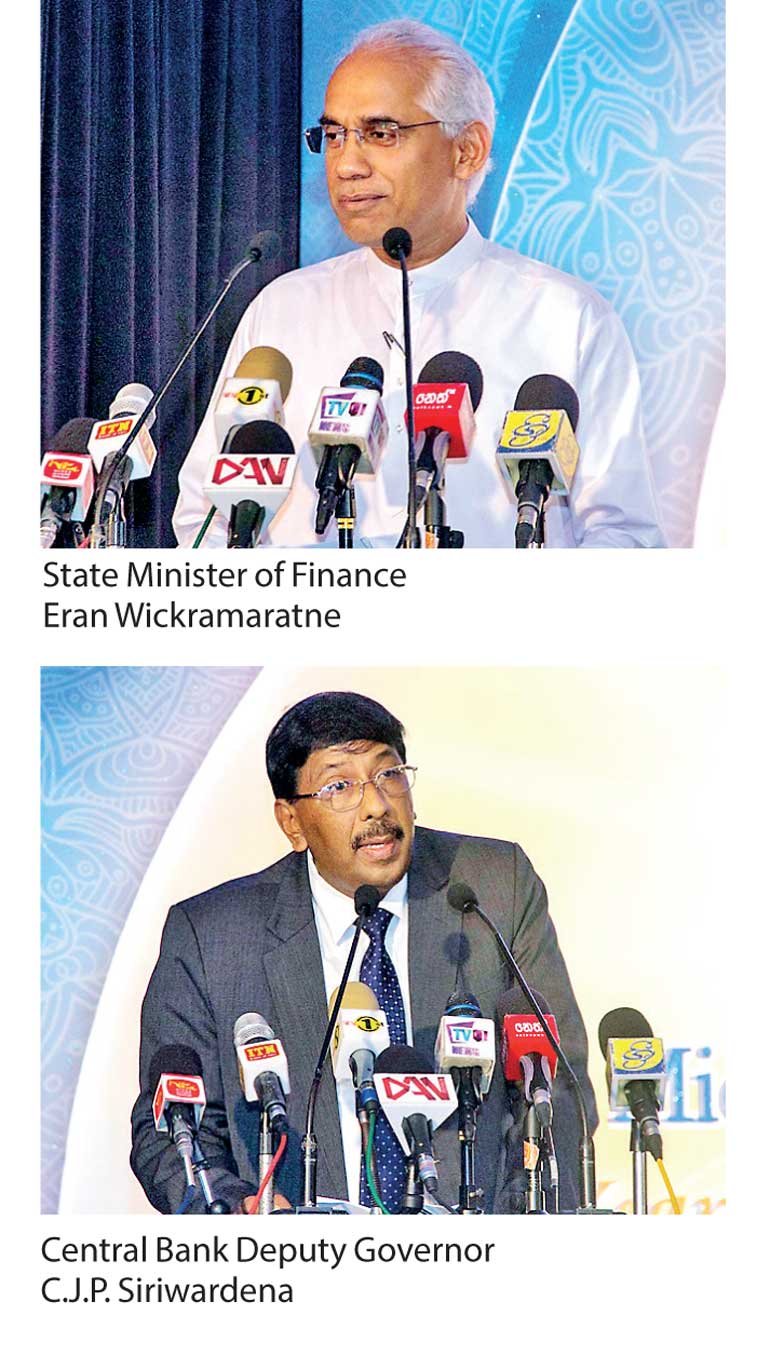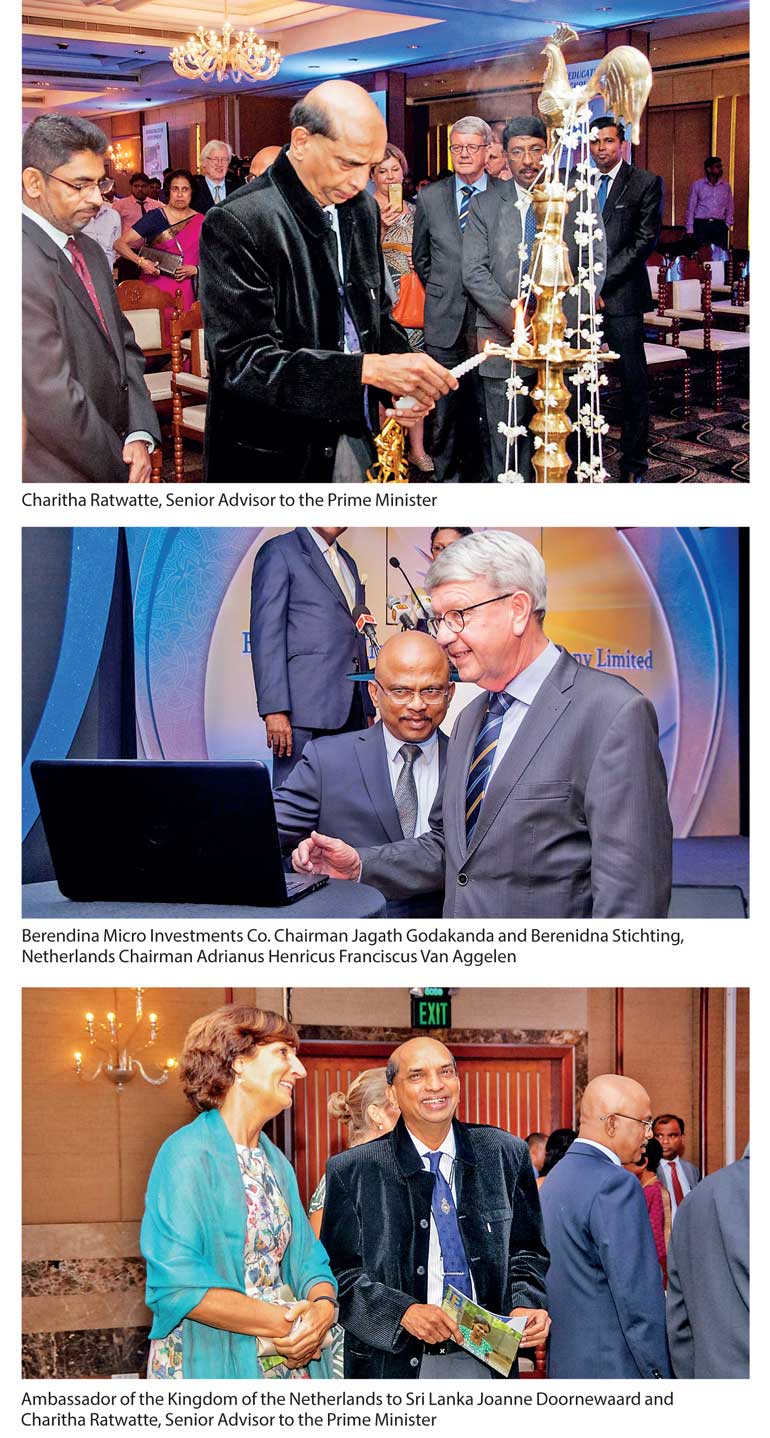 The newest not-for-profit microfinance organisation of Sri Lanka, Berendina Micro Investments Company (BMIC), essentially a poverty-focused, development-oriented, was ceremonially launched last week.

State Minister of Finance Eran Wickramaratne was the Chief Guest and C.J.P. Siriwardane, Deputy Governor of the Central Bank was the Guest of Honour. Charitha Ratwatte, Senior Advisor to the Prime Minister, was the keynote speaker.

The event was also be graced by Joanne Doornewaard, Ambassador of the Embassy of the Kingdom of the Netherlands to Sri Lanka Jos Van Aggelen Chairman of Berendina Stichting and the Board of Directors and Advisors of Berendina Stichting in the Netherlands. Berendina Stichting is the founder of BMIC in Sri Lanka.

Since 2007, Berendina's microfinance services were provided by the Berendina Microfinance Institute (Gte) Ltd. In keeping with the Central Bank's new licensing requirements, the microfinance services are now operated by a new company 'Berendina Micro Investments Company' (BMIC). By formally launching as a micro-finance company, BMIC will be offering an array of Micro Finance, enterprise development and social protection solutions to the low income population in Sri Lanka.

BMIC is owned by Berendina Development Services (BDS) – a highly-respected NGO, providing numerous services to the under-privileged of the country. BMIC currently serves over 107,000 families in 10 districts of the country, both in rural and plantation areas. There are few salient characteristics of BMIC such as the lowest interest rate and the initiatives undertaken to improve the lives of its clients which distinguishes BMIC from most other MFIs in the country.

"Berendina has come a long way and done lot of work to reduce poverty in the country, over the years. But we have not spoken about or publicised what we have been doing, which must change. We must now take our message out to the people, so we can do much more, getting closer to our ultimate goal of completely eradicating poverty from Sri Lanka," stated Jagath Godakanda, Chairman of BMIC, in his welcome address.

BMIC is providing loans at the lowest interest rate among the NGO and private sector micro-finance institutions (MFIs) in Sri Lanka. (The effective interest rate is 26% per year, as opposed to over 40% as in the case in most other MFIs in the industry). The loan amount disbursed in 2017 is over Rs. 3.5 billion.

BMIC works mainly in high poverty divisions in high-poverty districts in the country and also provides training, business counselling, product marketing and business information, required by low-income individuals and provided by a dedicated and well-trained, full-time staff (over 46,000 people trained in 2017).

BMIC has also embarked on few initiatives which goes beyond monetary assistance, one of which is to provide scholarships for the bright children of BMIC clients after their Ordinary Level examinations, until they complete their higher education or vocational training (3,000 scholarships were given by Berendina in 2017 out of which 445 scholarships were funded by BMIC).

Another feature is providing cash grants in the event of hospitalisation and for funerals (more than 4,000 families supported in 2017).

"'Micro investment' has a better meaning than 'microfinance' because the latter has lost its value to a larger extent mainly due to negative implications of so-called commercialisation of microfinance in the recent past with elements such as high and unaffordable loan interest rates for poor, over indebtedness and related social issues. For Berendina, microfinance is purely a tool of poverty alleviation and economic and social development and not a profit making business although making a reasonable profit is required. All the services offered by us such as the loans, training and capacity building, social benefit schemes and savings which will be started after the obtaining of the licence from the Central Bank are 'micro investment' opportunities for the poor and low income people," commented Anura Attapattu, Chairman of Berendina Development Services (Gte) Ltd. and Berendina Employment Center (Gte) Ltd.

The profits earned by BMIC are possibly very much lower than many other MFIs, due to the low interest rate charged for loans and the cost of various additional services provided by BMIC. Even these limited profits of BMIC are fed back to Berendina Development Services (BDS) and Berendina Employment Centre (BEC) – companies limited by guarantee for their development project activities.

Berendina is currently working in the districts of Kegalle, Nuwara-Eliya, Kandy, Anuradhapura, Trincomalee, Batticaloa, Ampara, Vavuniya, Kilinochchi and Mullaitivu whilst Puttalam is also served by BEC.