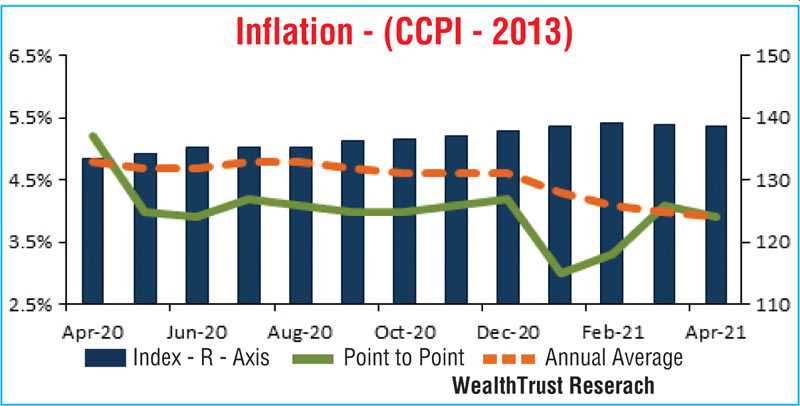 ---
Demand at primary auctions reduces considerably
Money market remains liquid
---
By Wealth Trust Securities
---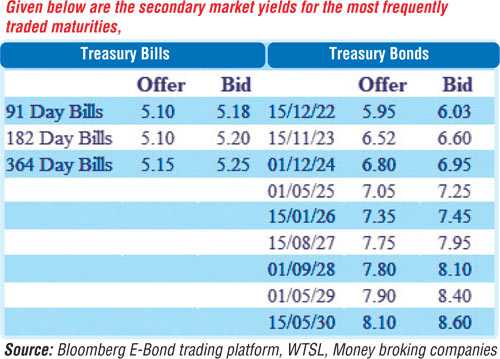 The overall activity in the secondary bond market moderated once again during the shortened trading week ending 30 April with most market participants opting to be on the sidelines, leading to a bearish sentiment. 

Limited trades were witnessed on the maturities of 15.10.21, 2022's (i.e. 01.10.22 and 15.12.22), 15.01.23, 15.07.23, 15.10.26, 01.08.26 and 2027's (i.e. 15.01.27 & 15.10.27) at levels of 5.15% to 5.18%, 5.95% to 6.03%, 6.00%, 6.45% to 6.50%, 7.40% to 7.42% and 7.83% to 7.90% respectively.

The bearish sentiment was supported by the outcome of the weekly Treasury bills auction, at where the total accepted amount was seen decreasing for the first time in three weeks to Rs. 29.89 billion against a total offered amount of Rs. 45 billion each week. In addition, the outcome at the Treasury bond auctions saw only an amount of Rs.4 4.55 billion or 55.69% accepted in total against a total offered amount of Rs. 80 billion.

Meanwhile, the foreign holding in rupee bonds was registered at Rs.6.20 billion for the week ending 28 April while Colombo Consumer Price Index (CCPI) or inflation for the month of April decreased for the first time in three months to 3.9% on its point to point, when compared against its previous month's figures of 4.1% while its annual average decreased as well to 4.8% from 3.9%.

The daily secondary market Treasury bond/bill transacted volumes for the first three trading days of the week averaged Rs. 10.44 billion.  

In money markets, weighted average rates on overnight call money and repo remained mostly unchanged to average 4.66% and 4.68% respectively for the week as the total outstanding liquidity surplus was registered at Rs. 151.31 billion. The CBSL's holding of Gov. Security's stood at Rs. 888.70 billion.


USD/LKR

In the Forex market, USD/LKR rate on spot contracts traded at levels of Rs. 199.74 to Rs. 199.75 during the week while 1 month forward contracts were quoted at levels of Rs. 202.00 to 205.00 at certain time during the week.

The daily USD/LKR average traded volume for the first three days of the week stood at $ 58.38 million.  (References: Central Bank of Sri Lanka, Bloomberg E-Bond trading platform, Money broking companies)