One of Sri Lanka's eminent business personalities Dr. Rohantha Athukorala last week said that the majority of Sri Lankan consumers are not looking for state-of-the-art technology in their daily lives to deliver convenience but, how technology can reduce their daily cost of living.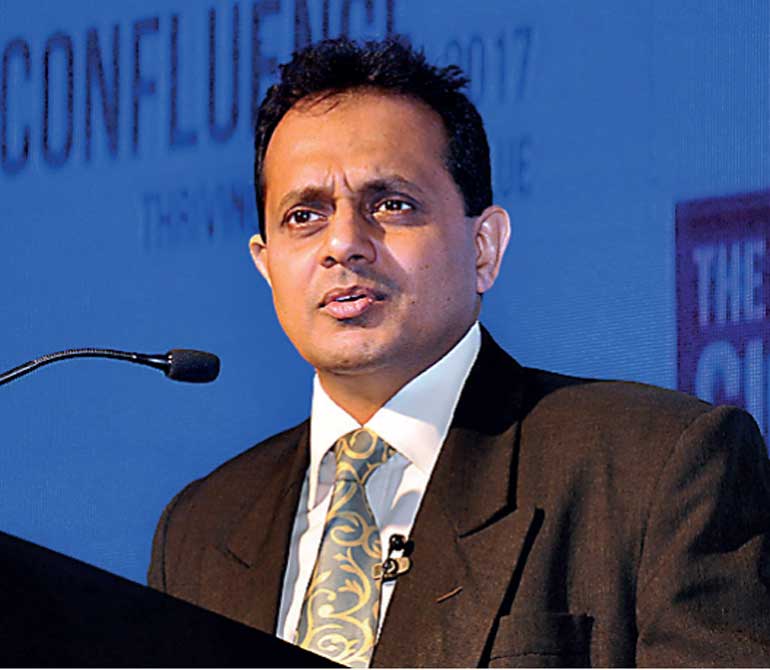 Dr. Rohantha Athukorala at the CIO conference organised by The Banks' Chief Information Officers Forum of Sri Lanka at Cinnamon Grand
He was addressing the chief information officers conference at Cinnamon Grand organised by The Banks' Chief Information Officers Forum of Sri Lanka, with the Governor of the Central Bank Indrajit Coomaraswamy being the Chief Guest.

Athukorala who has extensive experience in top global multinational companies handing power brands like Dettol and in the state sector of serving the pivotal revenue earning institutions like exports and tourism, said when one examines the July 2017 data on consumer consumption of the FMCG industry at a household level, the numbers have declined by 3.1% in Q1 to 2.5% in Q2, 2017 as per the report by AC Nielsen.

He said what this means is that either people are moving out of the category or they are reducing the usage of product stating that any investments on technology in the banking sector must drive down the costs of finance to the Sri Lankan consumer rather than just only convenience.

Sharing more insight to the AC Nielsen report he explained that in the two quarters of 2017 the Sri Lanka food and beverage sector recorded a negative growth of 3.2% and 1.4% respectively (Q1 and Q2 of 2017). This is reflective of the drastic changing taking place on the lifestyle of the consumer which the banking community must pick up and change strategies, he said.

On the personal sector side of consumption, the numbers have reduced by 1.2% and 5.5% respectively in the two quarters of 2017 which is worrying given that normally people don't move out of personal products like shampoos if not for things being very rough at the home end. The challenge is to identify the root causes for the declining trend and how it can be corrected. May be the financial institution industry must support this national issue than just investing on technology, said Dr. Athukorala.

On the household side of the business demand has contracted by 2.7% and 6.1% respectively which is a sharp decline that needs to be clearly analysed and addressed. But the fact remains that inflationary pressure is driving a behavioural change, asserted Dr. Athukorala.

"We must also note that all basic staple foods like rice, sugar, lentils, cowpea, sprats are all being imported into the country hence the depreciation of the exchange rate tends to have an impact on the price and there by the consumer selling price. This further aggravates the quality of life of the lower of the pyramid which is almost 40% of Sri Lanka's population," he added.