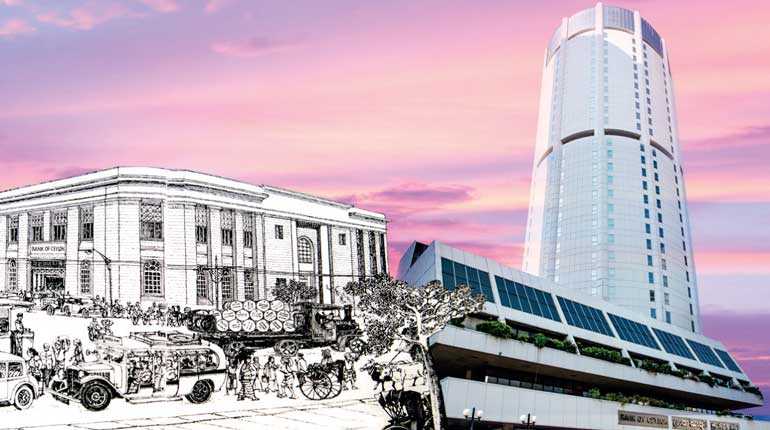 BOC Tower
---
Sri Lanka's No. 1 bank, Bank of Ceylon, is geared to celebrate its eight decades of dominance in the banking industry on 1 August.

With the heritage that explicitly showcases the commitment to the nation, the Bank of Ceylon is considered to be among the top most important contributors towards the economic and social development of the country.

The saga of Bank of Ceylon begins in the early 1900s when lack of finance deprived many Ceylonese businesses from making use of the opportunities that were available at that time. It was then that the Member of the State Council of Ceylon for Kandy George E. De. Silva moved a motion to look into the situation with regard to the ordinary Ceylonese who were deprived of financial assistance to get involved with businesses unlike a few elite Ceylonese businessmen and foreigners, which led the Governor of Ceylon to appoint a commission to look into this situation.



Finally the Bank of Ceylon Ordinance was enacted in 1939 and the bank was declared open on 1 August 1939 at 41, Bristol Street in Colombo Fort, by the Governor, Sir Andrew Caldecott. Since then, for eight decades the country's banking giant has delivered an unparalleled service to Sri Lankans at all levels and an unmatched contribution to the economy.

The Bank of Ceylon grew rapidly opening branches in every major city within a decade followed by a branch in London. By the mid-1950s it was a force to be reckoned with and with the passing of each decade it has continued to grow in both size and influence subsequently becoming a tool for effecting economic growth on an even broader scale.

However, growth to this size, the complete range of products and services it offers and the role it plays should not come as a surprise. That is because the origins of Bank of Ceylon are steeped in history. Its formation is an important event in the history of commerce and of the Sri Lankan economy.
Dominating local banking landscape

Leveraging on the strength gathered over eight decades, Bank of Ceylon has continued to dominate the Sri Lankan banking landscape at many different levels. It is the bank that is involved in uplifting every socio-economic stratum in Sri Lanka by comprehensively penetrating into the everyday life of Sri Lankans as a house hold brand. Currently BOC is a major contributor to economic and social development by fostering good governance and ensuring banking services are made available to every socio-economic group in the country.

"We are a bank that stayed together with the Sri Lankan community at all times. By understanding the true needs which emerge from within our community, our efforts have always been to address those by financial assistance given through a proper mechanism," said Bank of Ceylon Chairman President's Counsel Ronald C. Perera.

"The path the bank had to take has always been a challenging one, but the resilience of the bank and its capacity to overcome these formidable challenges have been demonstrated along its eight decades. It has developed its market leadership by confronting market volatility, channelling and aligning resources to ensure business growth and achieving transformation through technology. As we step into the 80th anniversary I have to mention that we have realised the goals we have had in our plan. Now our focus is towards the bank's 100th anniversary which will come in the year 2039. Being the bank for the future youth, we look forward to build more Sri Lankan entrepreneurs encouraging youth to actively contribute towards economic growth and become future business leaders. The bank will also extended its international network to emerging markets further establishing its brand as an international Sri Lankan bank."
Unparalleled balance sheet

Owning a balance sheet that is unparalleled in the industry, with three components carrying over a trillion rupees each; assets over Rs. 2 trillion, deposits over Rs. 1.5 trillion, advances and lending over Rs. 1.8 trillion, BOC boasts of being the wealthiest single business entity in Sri Lanka.

This leading Sri Lankan banking giant has spread its wings across the island with a sophisticated inter-connected digital network currently inclusive of 636 branches, 10 mobile branches, 15 SME centres and also 1,110 ATMs/CDMs and CRMs that are 24x7 operative as physical customer touch points building up a total of 1,769, enabling customers to transact at their convenience.

It has already marked its overseas presence in London, Chennai, Male, Hulu-Male and Seychelles and envisions extending its network further. The bank currently maintains a foreign correspondent network that consists of over 800 foreign banks and over 100 exchanges houses that has enabled the brand "BOC" to reach anywhere in the world.
World-class technologies

Integrating world class technologies to provide the best-in-class banking service that is suited for the next generation customer, the bank has brought banking to the fingertips of the customer.

The digital transformation of BOC began as early as the early part of 2004, when it upgraded its branch operating network with the latest ICBS system that interconnected the entire branch banking operation into a centralised system, significantly cutting down the operation time and cost. It also marked the beginning of "paperless" operations as most of the procedures and processes were compacted reducing paper usage. The DMS system that came recently is set to completely take over the conventional record keeping, allowing the bank to be more customer-centric.

Transforming its systems to evolve further, BOC embarked on a comprehensive digital platform re-launching its Online Banking with added features as Smart Online Banking, mobile banking B-App, re-vamped its card centre operations and launched a concept named "BOC Digi", a self-servicing state-of-the-art banking centre that allows customer 24x7 access to essential banking services via digital devices in a spacious, comfortable and modern environment as different from a mere ATM/CRM outlet.

With the fundamental strength that was built over the years and adapting to the agile nature of the banking industry with new technology, the Bank of Ceylon has continued to dominate as the No. 1 bank in Sri Lanka. BOC's structure is sustainable in the longer-run which is developed around a profound vision, mission and a set of corporate values.

The assurance the bank has earned throughout these years is validated by all stakeholders, especially all Sri Lankans. As for the future, the bank aims to confront future challenges by developing market leadership, confronting market volatility, channelling and aligning resources to ensure business growth and transforming the banking landscape digitally.

"BOC has always been committed to fulfilling stakeholder interests. We are a bank that has rendered assistance to the socio-economic development goals of the Sri Lankan Government for eight decades. Over the years, from generation to generation, Bank of Ceylon has seen many individuals, small businesses and many companies make very modest starts and with the bank's help to grow from the SME class (i.e., Small- and Medium-sized Enterprises) to achieve positions of financial stability and holders of substantial market share. Some have eventually developed into conglomerates and large company groups. We consider ourselves lucky to have seen all these success stories.

"The Bank of Ceylon is also currently one of the significant contributors to the economy. It has been the highest profit earning single business entity in Sri Lanka for several years and closed 2018 achieving a record of Rs. 31.9 billion Profit Before Tax (PBT). With that we take pride in telling that our effort towards development of this country has been fruitful. Empowering youth is a special task the Bank of Ceylon always has had on its agenda. BOC will continue to pose itself as the most relevant and sophisticated bank for the 'future customer,' assisting them to fulfil their aspirations by adding value to their lives through providing convenience that will be required at that time," Perera added, promising a brighter future for the bank and all its stakeholders.
Financial inclusion and progressive agenda

Assisting and enabling financial inclusion has been one of Bank of Ceylon's top priorities from the very beginning – actually since it opened its doors in 1939. By now it has made it easier for customers to carry out their banking activities whenever they want to. The nature of these services is one of the reasons why Bank of Ceylon is the No. 1 banking brand in the country as the banker to over a half of Sri Lanka's population and carries over Rs. 50 billion as brand value.

BOC has inclusively looked into an advanced and progressive agenda to meet social needs. The assistance was heightened during the post-war period where many projects that were started back then have now reached maturity and many of the micro segment farmers have risen to become successful SME businesses through agriculture-based production in north and east regions. Going beyond the normal business norms, in 2014 the Bank of Ceylon provided financial assistance to rebuild the Northern Railway Station which was inoperative for almost 30 years, as a gesture of bridging the Northern Province with the rest of the country.
Strength of the staff

"It is needless to state what we have become, but I wish to tell the nation that it is the strength of our staff throughout this journey that paved the way towards the pinnacle of success. Beginning with a handful of staff back then we have grown to become a large organisation with over 8,700 employees as at today. Having a likeminded, dedicated and knowledgeable staff is the best resource we have. It has to be emphasised that many of our digitalisation projects were pioneered by the bank's own staff," stated General Manager/CEO Senarath Bandara.

"Operationally we have always been down-to-earth and have always referred back to our customers to understand what is required of us. It was this insight that enabled us to come up with many concepts such as 'Branch on Wheels,' SmartZones and BOC Digi in the recent past. By enhancing digital eco-systems via a sophisticated banking platform, the bank has incorporated even the most rural sectors of the economy to take part in economic activities efficiently. They too no longer visit the branch to transfer funds or receive funds from the anywhere within the country but instead comfortably rely on online banking or an off-sight ATM/CDM or CRM. Further we assisted the most essential part of social and environmental commitment by incorporating the green banking concept to our banking practices in a comprehensive manner. Even though we have been practicing some essential parts of green banking, we opened our minds to the emerging concept and completely embraced these values and communicated such to all our stakeholders in order to get them aboard this movement," he added.

The Bank of Ceylon is on a mission to transform its branches into green branches and currently has 41 such branches with the capacity of 1.85 MW connected to the national grid.

With the deep empathetic bonds that BOC has formed with the people, its stands to genuinely address their need to outgrow their shells of socio-economic obstacles and become more economically-able to achieve their goals in life. Geared to celebrate the first century of its existence in 2039 the Bank of Ceylon is determined to continue to spearhead the industry combining its visionary direction together with digital technology to add value to Sri Lankan lives.